Kobas is able to host your job adverts and take applications after initial screening questions are passed. You can offer and monitor the interview and trial process and offer jobs from this system.
Last updated 14 Dec 2022
Jump to:
---
Initial set up
You will first need our engineers to set up your Customer Interaction Centre:
You will then need to complete the configuration settings in cloud:
---
Posting job adverts
In the staff menu, which you can see annotated below, the red circle denotes pages that relate to Job Adverts. The blue circles relate to applicants.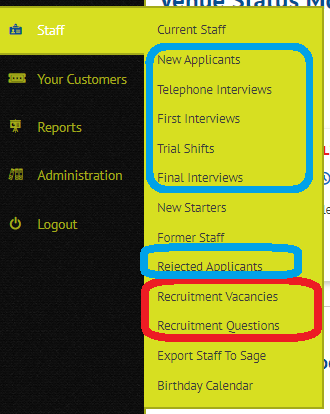 On Staff > Recruitment Vacancies, you'll be taken to a page that lists all current adverts, which you can edit or delete. You can also create New Vacancy. When you create new or edit a current vacancy, you change the following elements:
Venue
Title
Description
Pay rate
Advert start and end dates (or make open-ended)
Upload a document Job Specification
Mark the job as hidden or not
On Staff > Recruitment Questions, you'll be taken to a list of questions that every applicant will be asked. You can edit or delete current questions, and create New Questions. Whether creating or editing, you can change the following elements:
Name
Type (Droplist, options, paragraph, range, text, Yes/no). Where drop list or options are chosen, you can add these in. Where range is chosen you can specify the range. Where drop lists, options, range, or yes/no are selected, you can make this a "kill" question whereby the wrong answer ends the application process.
---
Further settings
There are several settings in Administration > Kobas System Preferences that relate to the recruitment portal, particularly around styling and automated email notifications. Please check these are set as you'd like them to be before using the recruitment portal.
---
New applicants
When applications are completed, you can receive email notifications (set in the System Preferences). Applications will then sit in the Staff > New Applicants screen. You can also manually add in applicants if they haven't used the online recruitment portal.
If you click More Details on the applicant you will be taken to essentially their profile, which mirrors the staff profile layout. The application process will be on the right-hand side, and the buttons at the top will allow you to progress the applicant through these steps.
At the end of the process, you can Rejected Applicant or Job Offered. You can then mark Job Offer as Accepted or Declined. Those where the offer is accepted move to Staff > New Starters and those who don't move to Staff > Rejected Applicants.