Kobas has three training guides to walk you through the layout, settings, and features dependent broadly on your level within the business.
Last updated 6 Jan 2022
Kobas training courses
You've landed, or been directed here, because you are new to Kobas, or you're after a refresher. We know that in your pub, bar, restaurant, club, or event; the time staff members of all levels are able to devote to getting to grips with a computer and EPoS system is limited.
The three courses below are designed with the industry in mind, by ex-industry Kobas experts. The aim of the guides is to walk you through the relevant basics, and signpost to more detailed information about each element which you can explore as and when required.
| | |
| --- | --- |
| Training for all users | This guide explores the basic operations of EPoS, and the navigation around, and basic functions in the Cloud. |
| Training for managers | This guide is an extensive look at all of the areas of Kobas. We give you an overview of each aspect of functionality and point you to more detailed articles explaining different elements. |
| Training for administrators | This guide will walk administrators through the various settings within Kobas that allow you to configure your account to work complementary with your business. |
How else Kobas can support you
More detail on whom to contact within Kobas can be found here.
The Knowledge Base
If you have a specific issue that you require help with, please return to the Knowledge Base main page, and either navigate through our contents page or search for the issue you are faced with. You can either search or browse by category.
Simply type help.kobas.co.uk into any web browser. The site works well on mobiles and tablets as well as computers!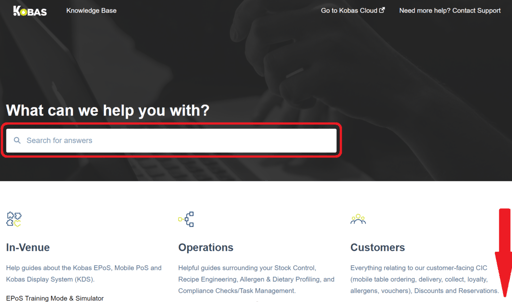 Informative text in the Cloud
Within the cloud, many pages and functions have introductory text and "info bubbles" which provide you instant detail about the element you are working with, for example:

Your Kobas champion
We always encourage our clients to nominate someone or a small group of staff, usually within management, who are able to spend a little more time understanding the system and who help to set it up. These people are usually fairly computer literate initially. These people will become a valuable resource in your business, and you should find out who they are, and seek help and support from them.
Resources we can provide to help your internal training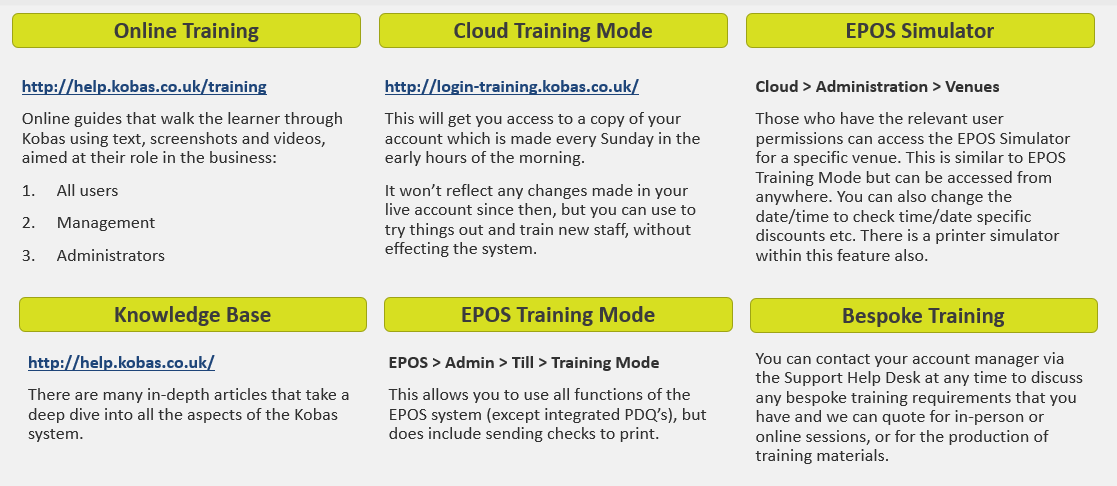 Feedback
We value all feedback, as it helps us to keep elements of our training that meet the needs of our client and work on new and lacking areas. You will find a feedback link at the end of each course.