In Kobas Cloud your staff can make requests to take holiday or have days off, which are counted as paid and unpaid leave respectively.
Last updated 12 Apr 2023
Jump to:
---
Kobas definitions
Terminology relating to time off used in Kobas is:
| | |
| --- | --- |
| Day Off | A day where the staff member doesn't work and isn't paid. |
| Holiday | A day where the staff member works and is paid, and this deducts from their Holiday allowance. |
| Time Off | The collective term for Days Off, and Holiday Days. |
| Allowance and accrual | The various holiday allowances and accrual methods are defined in detail here. |
| Irregular Hours workers | More information on our changes to reflect case law in relation to Irregular Hours workers can be found here. |
| Holiday allowance | This is the generic term for the amount of time off allocated per year. |
| Carried over | This is a temporary situation where staff can add to a specific holiday year, unused holiday days from the previous holiday year. |
| Holiday year | The 12 month period which each client uses to count Holiday allowance; the most common being the calendar or the financial year. |
---
Requesting time off
All staff can request time off (paid or unpaid) by visiting Rotas > New Holiday Request. Some staff will have the ability to request time off on behalf of other staff, depending on permission levels.
Top Tip: You can limit how many days over what they have accrued an Irregular Hours staff member can request in Kobas System Preferences.
On the New Holiday Request page, you will see a summary of your holiday allowance, which calculates how much leave you are allowed to take during the current holiday year.
Requests can be made for the current and next holiday periods for your company. Once a request is made, its status is pending until approved by a manager.
Irregular Hour staff will be able to see next year's Full Year Allowance and Projected Entitlement, but not book until that period has started. The staff can still book Days Off and convert that to Holiday once that year has started.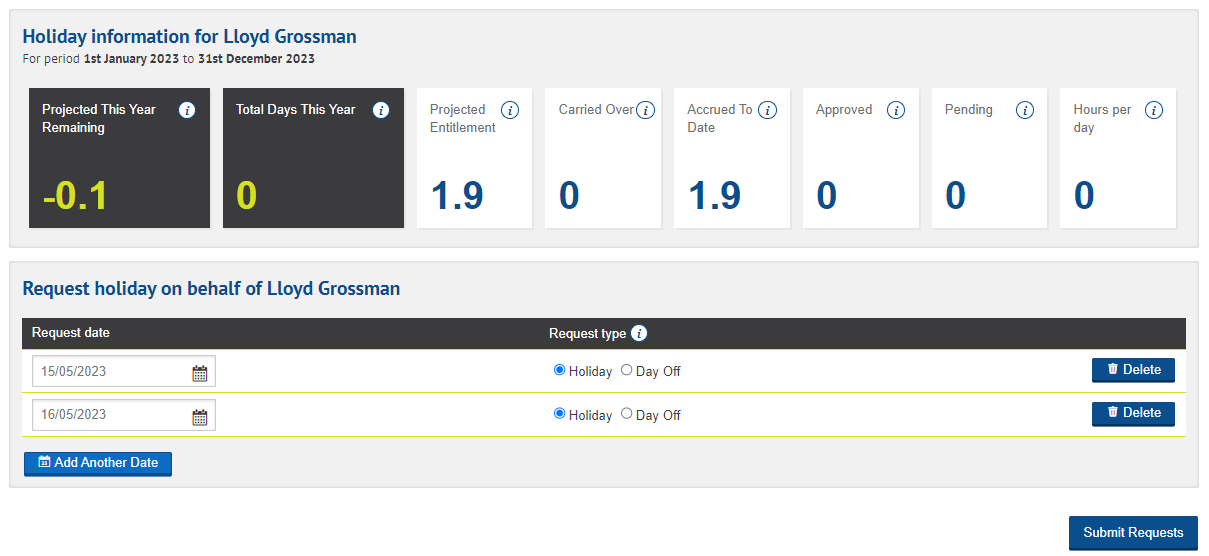 Top Tip: Staff will be able to choose whether each day requested should be a "Holiday" or "Day Off". Staff will only be able to request Holiday where their allowance permits.
Furthermore when the staff member has put the first date in the request, when they press "Add another date" will then automatically add the following dates.
Staff can see the Holiday Calendar (Rotas > Holiday Calendar) which can be useful to direct staff to look to help plan for when to take leave throughout the year.
---
Managing time-off requests
Staff with the appropriate Staff User Permission Level will be able to manage time-off requests for their "own" venues.
This is completed in the Rota > Holiday Calendar screen and also Rota > Holidays.

You can set a Company-wide setting in Kobas System Preferences which will send an email notification to the venue manager when time off is requested. You can also dictate how to deal with senior staff time off requests.
In the Rota > Holidays screen, you can filter time off dates by pending status, staff member, or venue. You can then action any requests by choosing:
Decline - this will be followed by a box where you can add notes. This will then be emailed to the staff member (using the email address in their staff profile).
Accept - this will approve the request and email the staff member.
Delete - this will remove the request and not email the staff member.
Make Day Off - this will change the day from a Holiday to a Day Off.
Make Holiday - this will change the day from Day Off to a Holiday.
This includes all past, future and pending requests. Therefore, you can make the above changes to a time off request even if it has already been approved for a future date (ie. if someone changes their mind).
The Rotas > Holiday Calendar screen displays the same information in a visual format which will help you ensure your venue remains fully staffed.
Hovering over the "i" bubble will inform you who has taken each action in relation to this holiday request.
---
Home Venue changes
When staff member moves Home Venue, future time off already requested is attributed to the new Home Venue. Time off already taken remains attributed historically to the venue before.