Periodically you need to clean around your tills and this may mean disconnecting some of the wires. This article demonstrates how to reconnect the wires for your till.
Last updated 9 Jan 2022
Jump to:
---
Introduction
For some time, the only EPoS Units supplied by Kobas have been Aures Yuno or Oxhoo Onix tills. Please check which brand name is on the front centre, or rear panel of the till. Please then follow the correct instructions
---
Aures Yuno
Yuno tills are the most commonly used tills running Kobas EPoS, and look like this:
Start by removing the back of the till. There is a small button on the underside of the back of the till, right beside the base – push this in and you should be able to remove the back. You should see a row of ports like this:
Red: Network (Ethernet) cable. This is the cable that goes back to your router and allows your till to communicate with your server and the wider internet.
Blue: QR code scanner cable. This is where you connect your QR code scanner.
Orange: PDQ cable. If your PDQ has a USB connection, it should be plugged in here. Note that most PDQ's no longer connect by USB into the till. Note that this port could be used instead for your CFS module.
Yellow: Cash drawer cable. This is the cable that comes out the back of the cash drawer.
If you've done the above correctly, you should see something like this:
Note: The power cable in the above picture is plugged into the DC-IN port at the far left.
Top Tip: The cabling can either be run down the stand and along the flat cable run at the bottom, or out of the hole in the bottom of the stand.
---
Oxhoo Onix
Start by removing the back panel by sliding it down, this requires some gentle pressure at the top of the removable section, and then slide down.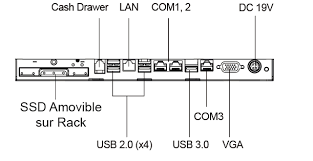 Using the diagram above, these are where your cables should go:
Cash Draw - this is for the Cash draw cable
LAN - this is for your Network (Ethernet) cable
USB 3.0 or 2.0 - these are where you can connect either QR code scanners, RFID scanners or your CFS modules.
DC19V - this is where the power cable will attach.
In the unlikely event this doesn't fix everything for you, please contact our Support Help Desk.