This article explains the terminology and the structure of the system that powers our Stock Management and EPoS pillars.
Last updated 02 May 2023
Jump to:
---
Terminology
The diagram below shows the basic relationship between the elements of this system, which we explore beneath it.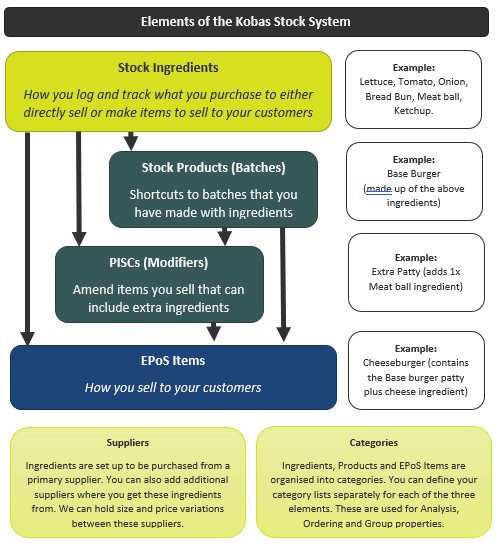 | | |
| --- | --- |
| Stock Ingredients | A stock ingredient is the base item that you purchase from your suppliers. You can stock-check them, and add parts of them to recipes (see below) and these are global (across all venues). |
| Stock Products | A stock product is a batch of ingredients that is made into something else, which you store in the new product. This could be a sauce, a burger patty, mulled wine batch or a pre-batched cocktail. This allows you to count and manage the product you've created. |
| EPoS Items (PLU) | These are the till buttons you create, so, therefore, are the individual items that you sell. They can have many ingredients and products attached, to deplete your stock as they are sold/wasted etc. |
| Modifier (PISC) | These are modifiers that allow customisation of an EPoS item. They can be simple instructions (with no price/ingredient change) such as how to cook the steak. They can also add additional ingredients and add/remove prices (perfect for upselling!). |
---
Lead Types and EPoS / Stock Categories
These are essentially used to group various items together for reporting purposes and you can read more about how they work and manage them here.
---
Stock Management Process Flow
Take a look at the diagram below:
Stages in the process
A "New Order" with a supplier is recorded on Kobas. This will be an External Order (where Kobas can email the order to your supplier if you would like), Internal Transfer (where the request can be sent to the venue by email), or a Credit Note (returning external items). Kobas can also predict your stock usage.
A "Delivery" is recorded which will confirm the order and actually log the stock in the system.
A "Stock Check" is completed whereby a staff member records how much of each ingredient or product is in stock in the venue. This information is the "Actual Usage figure".
The "Actual Usage figure" is then displayed against the "Theoretical Usage figure" (which adds all deliveries less all sales and stock usage) to produce a variance figure. This is reported in the "Stock Usage Comparison Report". This provides data that management can use to investigate variances and amend the Stock Check or Deliveries as errors are found.
Once they are satisfied any variances are accurate, the process is complete.
Other important elements of the system
A) For the system to work correctly, recipes must be correctly associated with each EPoS Item, Modifier and Batch on the system. To the same end, Stock Ingredients must be set up correctly.
B) Similarly, the system will only work if "Stock Usage" is recorded correctly by all staff (waste, comp, director).
It's also important to note here that it's strongly recommended Stock Suppliers are also be set correctly to aid the efficiency and accuracy of the Stock Management system.
Stock Measurements
Your Kobas account will automatically have the following measurements: milliliters (ml), grams (g), and items. This allows you to measure liquids, solids, and pre-packaged items.
For those in jurisdictions where imperial measurements are used, Kobas staff can change these for you to the relevant measurements.
Furthermore, to use the customer-facing Bulk Uploader (for Stock Ingredient and EPoS items), relevant measurements will need to be created such as Pint, Half Pint, 125ml, etc.