This guide will help you to set up automated birthday emailers for your customers.
Sending birthday emailers to your customers is a great way to keep them engaged. Not only does it build customer loyalty, but it also shows your appreciation for them.
The Kobas loyalty system has made it easy to set up automated birthday emailers and apply a discount voucher of your choice.
Setting Up
You can set this up by navigating to the following section in Kobas Cloud:
Administration > Kobas System Preferences
From the drop-down list, select to show preferences in 'Birthday Emails'.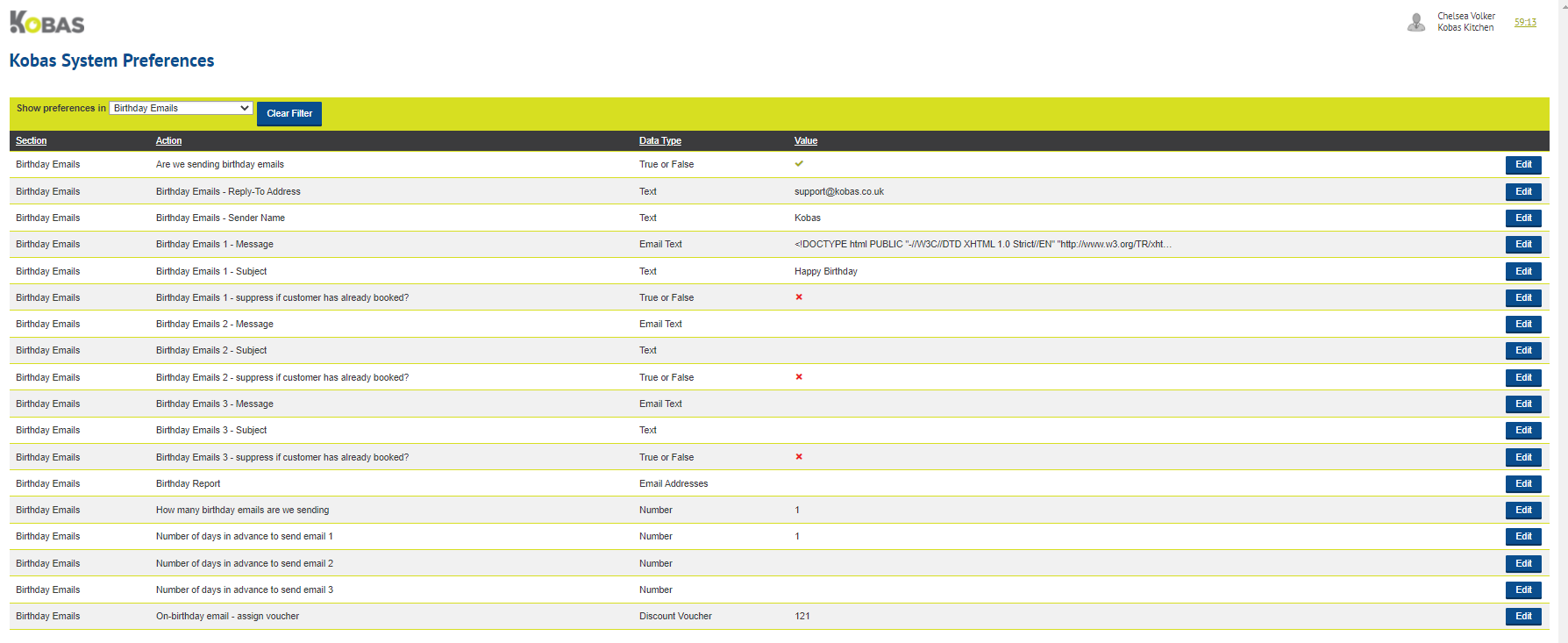 Then, you will need to edit the relevant sections below:
Are we sending birthday emails? Click to edit and set the value to True
Birthday Emails – Reply-To Address? Include an email address customers can respond to
Birthday Emails – Sender Name? We would recommend using your company name here.
Birthday Emails 1 – Message? This section needs to be in an HTML format. We are able to provide a basic HTML message for you if you provide your desired text and a link to your logo. For more complex designs, you are welcome to provide your own HTML.
Birthday Emails 1 – Subject. Edit this to include a subject line. We would recommend avoiding phrases such as 'free', 'offer' and 'winner' as those might trigger spam filters
Birthday Emails 1 - suppress if a customer has already booked? You can choose to suppress sending an email if a customer already has a future booking
Birthday Report? All email addresses set here will receive a copy of the summary birthday emails report
How many birthday emails are we sending? Kobas can send a sequence of 1, 2, or 3 birthday emails on the run-up to a customer's birthday
The number of days in advance to send email 1? Here you can set the number of days ahead of your customer's birthday to send out the first email
On-birthday email - assign voucher? Provided you have already created a discount in (EPoS > Discounts),

you'll be able to select the voucher from the drop-down list and allocate it to the birthday emailer.
If you have any questions or need assistance with your HTML format, please don't hesitate to contact our dedicated support team: support@kobas.co.uk