Creating a Reservation
To create a new reservation, go to Your Customers > Reservations > Create New Reservation in Cloud.
The first step is to check if there are already details for the customer on file, so search their phone number or email address. If the customer has made a previous booking, or is an existing loyalty customer, then you can create a reservation with their existing details. If not, then you will need to fill in the required fields to create a new profile.
Once all the customer details are correct, it is time to create the reservation itself. You must set the venue, date, start and end times, number of guests. You can also optionally select whether the reservation is corporate or personal, and record a source for where the reservation was made (eg. phone, email, website submission, in venue etc).
Completing these fields fulfills the minimum requirements for a reservation.
When you save a reservation you can choose whether to send the customer a confirmation email detailing the important points of the reservation, and giving them a Booking Reference. This reference is how the customer can identify themselves at a venue as being who they say they are, so it is important that customers have it to hand when they arrive at the venue.
Edits can be made to any of the details of the reservation, and you can choose whether you wish for the customer to get an email advising of any changes made.
Cancellations
You can cancel a reservation by clicking Cancel Reservation. You can then choose whether to send the customer an email confirming that their reservation has been cancelled. You can always re-enable the reservation before the date it occurs if needed.
Payments
Enter any Bank Transfer or Online Payments that have been paid as a deposit towards the reservation. Multiple payments can be added if the customer pays installments towards a deposit. When a reservation is added to a tab on EPoS, the tab will be put in credit to the value of any payments added in Cloud. If you enter a payment in error, then you can delete it before it is reconciled on the Cash Log for the day. After it has been reconciled on the Cash Log, payments added to a reservation in Cloud can only be refunded or edited.
Any deposits entered or refunded in Cloud during the current till session will appear as pre-populated fields in the Cash Declaration step of Closing Tasks when the session has been closed, and are then included on that date's Cash Logs.
Please note that only Bank Transfer and Online Payment are available as payment options for deposits in Cloud by default. We can add other custom payment types, so get in touch with support if you would like us to do this. PDQ and Cash payments can be added as deposits to reservations on EPoS.
For information on placing deposits on EPoS please see our guide to Reservations on EPoS.
Notes
If there is any specific information that staff need to know about the reservation, then notes can be added and edited on this tab. There is a limit of 250 characters for each note, but you can add as many notes as required. Any notes on a reservation display the name of the user that added it, and the notes will be displayed on the reservation information dialog on EPoS.
Audit Trail
This tab keeps a log of changes made to a reservation, when the changes were made, and by whom. This ensures that you have a trail that can be followed if any information about a booking is incorrect, or if any disputes about the reservation arise.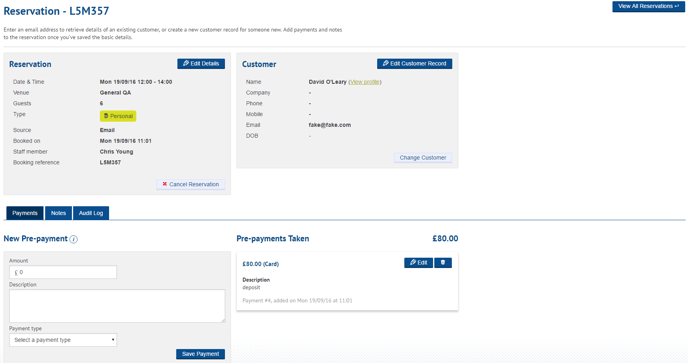 Reservations list
To see an overview of all the reservations logged in Kobas Cloud, go to Your Customers > Reservations.
This list page defaults to displaying all upcoming reservations from the current date. You can filter which columns are displayed to ensure that the page just displays the data that you require.
If you want to see past reservations, or all reservations within a particular date range, there is a date selector at the top. Click on the Clear button for all reservations to be displayed.
There is a search box on the page that allows you to search by any relevant information. For example, if you need to see all the bookings for one venue, enter the venue into the search field and only bookings for that venue will appear. Alternatively, if you search "Smith" you will get all customers with that surname.
CSV Export
You can export the list page as a CSV by clicking the Export As CSV button. You can use the date selector to set a date range that you are exporting, and the venue selector to set any particular venues. If you enter any search terms into the search field, then when you export you will only export reservations that fall within those search terms.
The CSV export displays every column of the list page, regardless of whether you have deselected any columns on the Select Columns filter.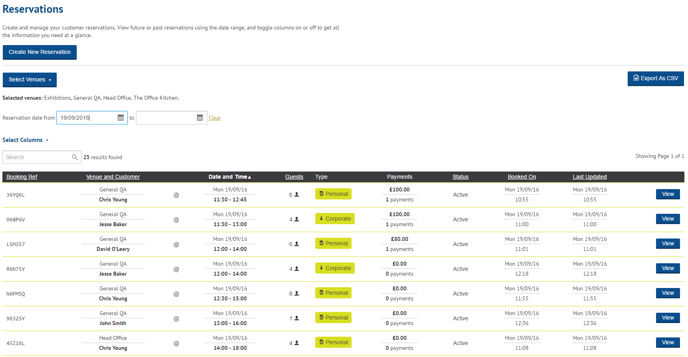 Top Tip: Searching a booking reference allows you to retrieve a particular reservation instantly.
Customer Profile Reservations Tab
If you navigate to Your Customers in Cloud, there is a list of all the customers that have made reservations with you, along with all loyalty customers if you use Kobas Loyalty.
Click View beside any customer to see their profile, and you will notice a series of tabs in the top right corner of the screen. Click Reservations and you will see a full list of the reservations that customer has made previously. The following information is displayed for each reservation in this tab:
Booking Reference
Venue and Customer
Date and Time
Guests
Payments
Status (Active or Cancelled)
This gives you a quick overview of a particular customer's reservations history, and is a handy way to see if a customer has made multiple cancellations or is a regular visitor.
Click View beside any reservation in the list to go to the page where that particular reservation has been managed.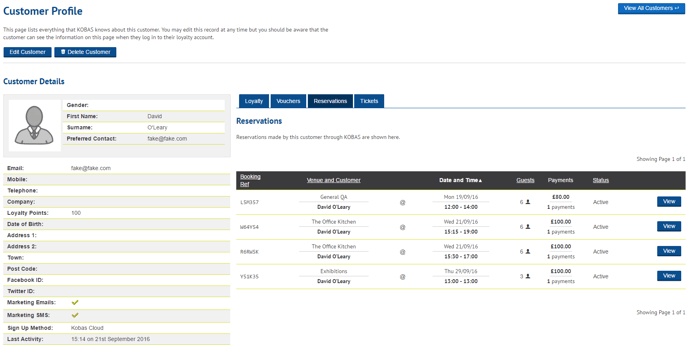 Permissions
The ability to create and view reservations at either the user's home venue, or across all venues, is governed by the following permissions:
Your Customers > Reservations – All > View
Your Customers > Reservations – All > Create / Edit / Delete
Your Customers > Reservations – Own Venue > View
Your Customers > Reservations – Own Venue > Create / Edit / Delete
---
For information about reservations on EPoS, please see the Reservations on EPoS guide.
For more information about how reservations work, please contact support.