The Kobas Loyalty scheme rewards customers with a point per pound that they spend. It is also possible to create loyalty point "boosters" that allocate bonus points on certain items or orders, allowing users to drive trade in quiet periods, or on specific high-margin items.
Points boosters are set up within the Campaign Manager in Kobas Cloud (Your Customers > Loyalty Campaigns). At present, there are two available points boosters:
Fixed Extra Points on Certain Items
Order Multiplier Points Boost
Fixed Extra Points
This boost allows you to add fixed bonus points to groups of selected items, which will be accrued whenever the items are added to an order, at a valid time. It is possible to manage multiple items with variable points boosts using the groups function.
For instance, if you have a deal on your "House White" wine, you can set up your boost as follows:
Small Glass: 5 Points
Large Glass: 8 Points
Bottle: 24 Points
It is also possible to assign entire EPoS Item categories to boosts, meaning you can have fixed points boosts on "Starters", "Mains", or "Desserts"; or even all three!
Order Multiplier Points Boost
Order multipliers boost points by your chosen factor, regardless of the items in the basket or tab. This boost is best deployed for quiet times to boost trade in those hours. For instance, "Triple Points Tuesday".
When setting up your boost, you should input the factor that you wish for the total points, not just the bonus points.
Using our "Triple Points Tuesday" example, the points on a £10 order would look like this:
Base Points: 10 Points.
Bonus Points: 20 Points.
Total Points Received: 30 Points.
Please note that loyalty points are only awarded for full pounds that have been spent. If, therefore, an order comes to £2.50 and an order multiplier is used. The base points will be 2 and any bonus points will be (2 * n).
Post Item Selection Configuration Options contribute to the order total and therefore the loyalty points total, these will be factored into any bonus points awarded.
Availability Planner
Just as with promotions and discounts, it is possible to define the dates, days, or times that a boost is available. The availability planner is flexible, meaning that users can either select the times that a boost is available, or when the boost is not available.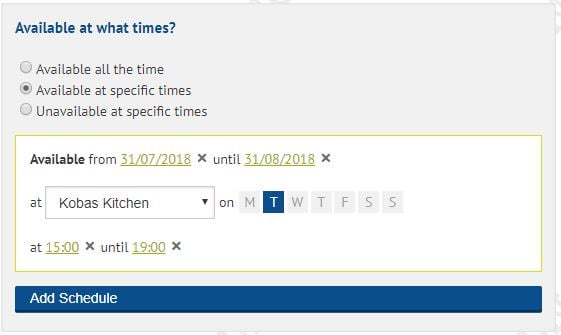 In the example above, our "Triple Points Tuesday" boost is available from 31st July until 31st August, on every Tuesday, between 15:00 until 19:00, in between the lunch and dinner rushes.
Receipts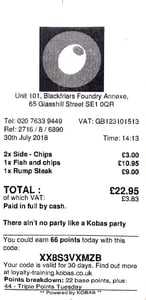 As shown in the receipt above, the customer is given a breakdown of their base points, bonus points, and total points.