A responsive, efficient, electronic alternative to printed work dockets for kitchens, bars and other dispense points.
Last updated 02 May 2023
Jump to:
---
Introduction
Moving from a paper-based docket system to a fully electronic check display system solves many of the pitfalls of checks and dockets.
When a Kobas printer issues a work docket, that's the end of our system's visibility of that order. The docket will likely be transferred from the printer to one or more holding rails, where it'll be moved along until the order item is served to the customer, and then most likely the work docket lands on a check spike. Not only does this generate paper waste, it gives us no information about the process, and is more open to human error and bad luck causing problems.
If you wish to use our KDS system, please contact our Sales Team who will be happy to provide you a quote and arrange a demonstration.
For each EPoS Item, you can decide whether they are tracked via KDS and where/how they are displayed. You can have as few or as many KDS screens as required, linked to different routes. For example, you may have three kitchen stations (one cold deli, one cook line, and one on the pass), and two bar stations (one on coffee, one on dispense); each taking food and drink respectively.
---
Demonstrations
---
Terminology
This feature comes with new functions and therefore terminology new to Kobas:
Stations
| | |
| --- | --- |
| Stations | A Kobas venue may have any number of KDS Stations. These are screens that display KDS. The software will support touch screens, so it would be possible to use an EPoS unit or any touch screen device if desired, though it could be messy. Keyboard and bump bar operation is our preferred hardware solution. |
| Station Item Assignment | This relates to assigning EPoS Items to one or more KDS Station. For example Food items to Kitchen KDS screens, and Wet items to Bar KDS screens. |
| Station State Assignment | This relates to which states each KDS Station is going to display. For example the Kitchen Pass may require all states, whereas the screen on the Cook-line may only require Cooking. |
Quick Buttons
| | |
| --- | --- |
| Bump / Bump all | This will bump the selection and anything within the selection forward by one state. "Bump all" will move the whole order along a state, regardless which part is selected. |
| Recall | This is the reverse of a "bump", where the order item or whole order is brought back one state. |
| Remake / Remake and waste | This sends the item back to the first state, to be started again. Whether the system wastes a set of ingredients depends on the option selected. |
| Info | This will show the EPoS Item image and Preparation Instructions if they are available. |
| Notes | This shows all notes for a selected Order or Build entered either on EPoS or the CIC. |
Functions
| | |
| --- | --- |
| State | The KDS feature tracks the "state" of a build or build (such as Queued, Prep, etc), that is part of an overall order. This starts with "Queued" and ends with "Complete". You can define and edit the States yourself. |
| Counters | The KDS Counter is a feature that displays a banner on the top of a specific station containing up to 4 "counters". The counter could be high volume ingredients, and totals what is required for current orders. For example, if you're on the grill at a burger joint and have burger patties set up as an ingredient you may have 3 Queued, 2 in Pass and an 4 in Grill showing in the counter as 3|2|4. |
| Order Timer | The timer in the order view that will count from when the order is created. |
| Courses | Kobas currently has the ability to distinguish courses (eg. Starters, Mains, etc.) using EPoS Item categories. The alternative view within KDS allows you to view the order by grouped categories, and see the flags when marked via EPoS (such as Mains Away, etc.). |
| View Filters | As well as filtering by courses (above), you can filter by Consumption Mode (so you can have Delivery only stations, etc) and by state (so you can have stations just showing Cooking, for example). |
| Order Totals | The bottom of each page gives you a number total for each order state as a quick view. |
Component parts
Order
An order is generated when items in the EPoS Basket are added to a tab, or payment is completed directly. This is the overarching "Order".
Order Items
The order items are the individual EPoS Items sold in the transaction/order. For an example the Order could comprise Roast Beef, Pint of Beer and a Side of Fries.
Build Items

The build item is the Order Item (aka. EPoS Item and Modifiers's) split down into component parts. This is to allow it to go to appropriate KDS stations in the cooking/preparation process.

For example an Order Item could be Roast Beef; but the Build Items could be Beef, Roast Potatoes and Veg, all being cooked in separate places.
Examples to illustrate the process: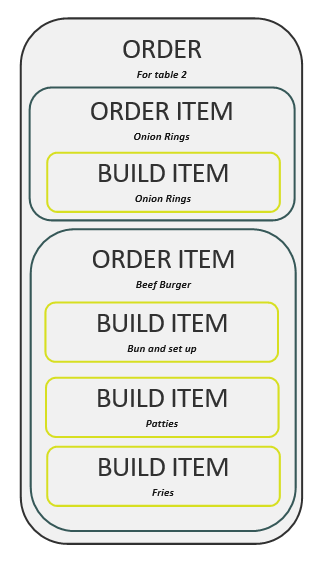 ---
Hardware
We currently support various touch screens and monitors to be used for the KDS screens.
Hardware Specifications:
Currently, the system works on our Aures till units and iPads.
Watch this space for further compatible hardware to be confirmed.
The touchscreen option could be used to move orders through the system. However, a much more reliable solution would be the "bump bar" that we would supply, see below.