Using Kobas EPoS on an iPad allows you to increase your number of tills. This solution allows flexibility and better supports table service. Setting up your device is straight forward and you won't need to contact support.
Last updated 06 Mar 2023
Jump to:
---
Update and Introduction
Our Apple App was depreciated in September 2022 in favour of our move to using Progressive Web App, or PWA, technology. The Kobas PWA technology is able to be used to turn your iPad into an EPoS till.
Any iPad that you choose to use for EPoS, which we call MPoS (Mobile Point of Sale), will need to run using iPadOS13.3 or newer. We do not support iPads or Mobiles on any version of iOS, only iPadOS13.3 or newer.
The steps below guide you through how to install our iPad PWA.
Note: Our iPads are compatible with those who use Virtual EPoS (VEPoS).
---
1. Set the iPad up in Kobas Cloud
You need to ensure the till is set up for the venue in Kobas Cloud, so go to Administration > Venues and select Venue Details for the venue you are setting the iPad up for.
If you wish to use the iPad primarily as a till, go to the Tills tab, and look for the 'next' IP address which you can give to this new iPad. In the example below, we would call the new till "Till 9" and give it IP Address "192.168.114.9".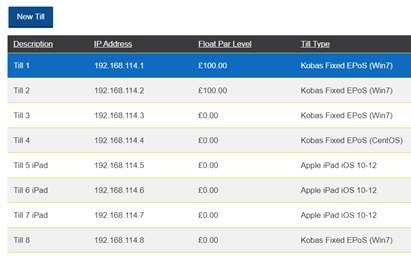 Then choose New Till, and set the relevant settings for how you want the iPad to behave.
You will need to tell Cloud that this is an iPad in either the Till section. This is found in the Advanced section at the bottom.
From the dropdown choose Apple iPad OS 13.3+

Enter the IP address you have decided to give it at the bottom.
Top Tip: Don't forget that any changes made to your system in Cloud will require you to complete Download Data on your EPoS system for the changes to take effect.
---
2. Wi-Fi Network
Connect the iPad to the same Wi-Fi network as the rest of your EPoS system. This may be a hidden WiFi network and shouldn't be public, so please contact your IT administrator if you are unsure which to connect to.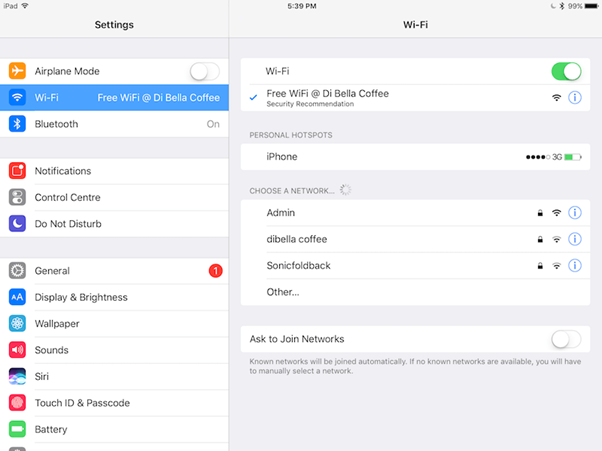 ---
3. IP Address
Select the correct network then to the right of the Configure IP option tap Automatic. Select Manual from the list. This will allow you to enter the Manual IP information required by the EPoS system.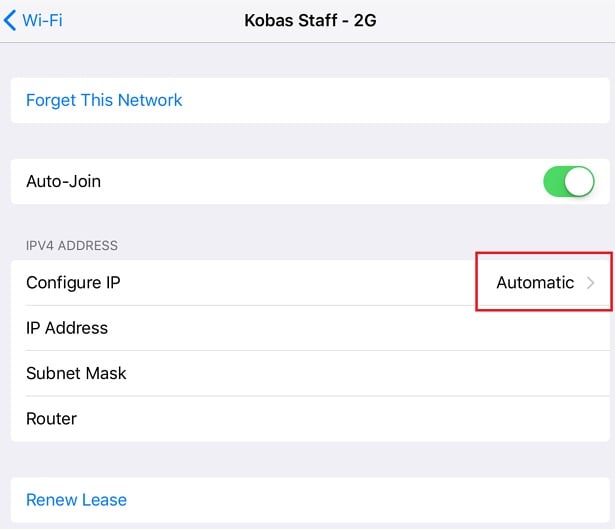 You will need to enter three values:
IP Address – this is the IP Address you identified for the iPad in Step 1.
Subnet Mask – this is usually

255.255.255.0

,

255.255.0.0

or

255.255.252.0

(you could check on your other iPads if you already have some).
Router – this is the IP Address of your internet router (again you can check iPads you already have, or you can contact your IT administrator or our Support Help Desk).
Once the IP details have been entered, press "Save" in the top-right of the screen to save the information.
---
4. DNS
Below the IP settings are the DNS settings. Again, tap Automatic, and then select Manual from the list.
Press the green plus sign to Add Server, then enter the IP address of the Kobas Server and click "Save" in the top-right corner. Again this can be obtained from current iPads, our Support Help Desk, or your IT administrator.
---
5. Open the App and pin to your home screen
You will now need to open your Safari web browser and type in your EPoS Domain URL into the address line.
Note: It must be typed into your web address bar in Safari exactly as displayed.
For most of our clients venues, this will be:
https://www.kobasepos.co.uk
For venues operating Virtual EPoS will need to use the domain:
https://virtual.kobas.co.uk
For venues where there are multiple venues on one server, such as a Multi-Venue Ordering (MVO) / Food Hall setting, you will need to replace the first www with the venue domain, which our Support Help Desk will able to supply to you:
https://u01.kobasepos.co.uk or https://u02.kobasepos.co.uk as examples
The final step is to press the Share button, and press Add to Home Screen to make sure your venue staff can open the app quickly during service.
You're done!
That's it, you successfully turned your iPad into a fully functioning till in a few moments. You'll see a new icon on your iPad desktop, which you can move around as you wish.
If you encounter any problems during this setup, please contact the Support Help Desk.
---
Troubleshooting
On most occasions, the setting up of your iPad as an EPoS unit will be quick and simple. If you do encounter any difficulties with this process, these tips below should assist.
| | |
| --- | --- |
| Check the Wi-Fi network and "Forget" others | Your iPad will need to run on the same network as your Kobas Server. We advise "forgetting" all other networks to avoid your iPad attempting to connect to different networks. |
| Ensure you are using the PWA | If you haven't yet changed from our depreciated Apple app please uninstall it, and follow the instructions in this article |
| Make sure compatible OS version | Check the top of this article to see the oldest iPad OS that we support, and then check that your iPad is compatible by going to Settings > General > About. |
| Turn off Flight Mode and put Wi-Fi on | The iPad cannot be in Flight or Airplane Mode, as these settings turn off all communication with network. |
| Make sure the Wi-Fi signal is good | If your iPad doesn't work, it could be because the Wi-Fi signal strength isn't good in parts of your venue. We would suggest walking around your venue with the iPad and checking signal strength in various points to see where any weak points are, and discuss those with your Network Engineer/ Company. |
| Check internet speed and connectivity | Your iPad will need a Wi-Fi connection to access the server as noted above, but an internet connection to use functions such as loyalty, reservations and to receive orders from Online Ordering. You iPad can show great Wi-Fi signal, yet have no internet connectivity. You can try a speed test using a browser on your iPad discuss the results with your Network Engineer/ Company. |
| Make sure the IP is not in the DHCP pool | This is definitely a matter for your Network Engineer/ Company. However, in simple terms, this means that the IP address your iPad is using must be reserved so other devices accessing the Network cannot use that address. |
| Make sure the IP address used is free | Similarly to above, this involves making sure no other device is on that IP address. |
| Is the venue server online | Make sure that your Kobas server is online by looking at your other tills, if they have an error message then please contact our Support Help Desk. |