Step by step guide on creating a new order within Kobas Cloud and our Stock Control system.
To find the New Stock Order screen in Kobas Cloud go to Operations > Orders and Deliveries. Under Create New Order you are able to set your requested delivery date; how long the delivered stock is intended to last for; which venue you are ordering for, as well as which supplier you wish to order stock from.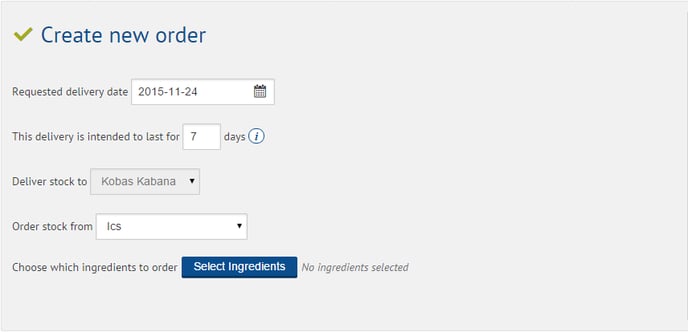 Click on Select Ingredients and you will be presented with a list of all the categories of ingredients you have set up to receive from your selected supplier.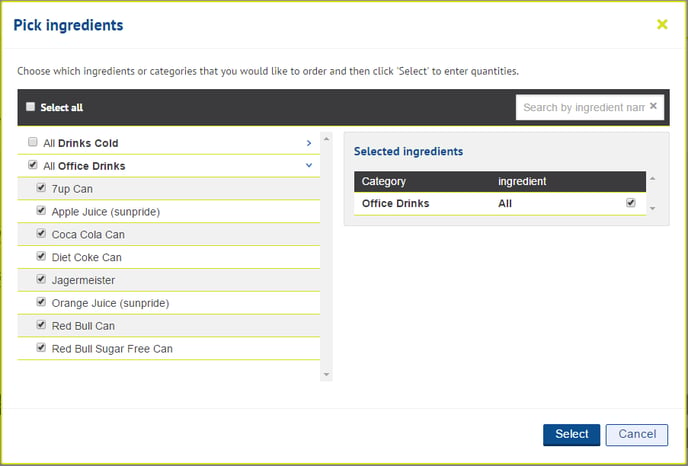 Click Select and you will see a list of the categories and items you selected.
You will also see a new feature in Kobas; Stock Predictions. As long as you have entered predicted sales to cover the period for which you have stated your delivery is to last, Kobas can use your historical sales data to predict how much stock you should be ordering.

If you see the above message, then Kobas has filled your order with the amount of stock it predicts you will use across your given date range; if you do not wish to use our predictions, then clicking Clear Suggested Quantities will clear the order and revert all "Order Quantities" back to 0.
Please note that this functionality is currently in Beta and Kobas cannot be held liable for incorrect stock orders. Please review the suggestions carefully before saving your order!

This shows you each item, pack size, cost per pack and the receiving venue's current stock. You are able to enter what quantity you would like to order of each item and Kobas will automatically calculate the cost of your order. When you click Save Order, Kobas will ask you to confirm you have reviewed your order before continuing.
If you see a
symbol, this means that the number in the Order Quantity field has been suggested by Kobas. If you see the
symbol, this means that the number in the Order Quantity Field has not been suggested by Kobas.
For more information on our Stock Order Predictions, please see here.
Once all fields have been filled, your order is now logged in Kobas and you will need to send it to your supplier. On the next screen you will see a summary of your order and the option to email or print the order. Click Email this order and you will have the option of sending a copy to yourself, colleagues or directly to your supplier.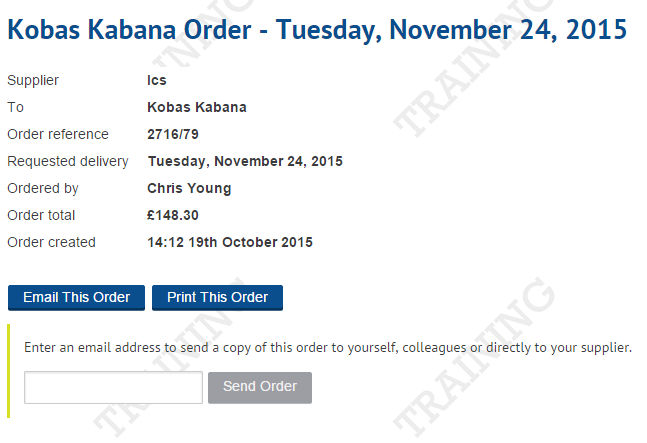 To see review the orders that you have placed, access Operations > Orders & Deliveries. You can list orders by Venue, Supplier and Date.
For more information on how to set up and edit what suppliers you order from, please see Managing Your Suppliers