This section looks at how managers can complete the Daily Tasks for their venues. We also explore viewing completed historic tasks and deleting closing tasks for re-entry.
Last updated 25 July 2022
Jump to:
---
Introduction
This article covers three elements of your Daily Tasks in further detail. For further detail, we would suggest reading the Daily Task section from the beginning:
There are then further articles covering Cash Log, Safe and Till Logs, Hours Worked, and Incidents, Petty Cash, Handover.

Video walkthroughs
Opening Tasks
In Shift Tasks
Closing Tasks
Further information
See below for our guide to managing and actioning your daily, weekly, and monthly closing tasks.
How to find logs of completed historic Daily Tasks
If you navigate to the Daily Tasks section in your cloud account, the first three menu items allow you to complete the task workflows: Opening Tasks, Closing Tasks, Shift Tasks. The menu items below them allow you to go in and see historical tasks.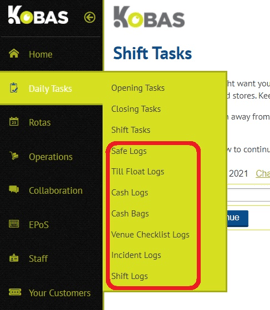 Summary screen and snapshot email
When you've completed the last of the closing tasks, you will see a summary screen detailing the tasks that you've just completed. You'll also be notified that a "snapshot email" has been sent out summarising the information you've inputted. Administrators can set who receives the snapshot emails, in the Kobas System Preferences.
Deleting closing tasks
Administrators on the account have the inherent permission (ie. this permission can't be given to other permission levels) to delete Closing Tasks that have been already completed and locked. This is useful when there is information that has been entered incorrectly.
This can be completed by heading over to Daily Tasks > Closing Tasks and selecting the venue and date in question. For Administrators, an additional button will appear, called Delete These Closing Tasks, as seen below.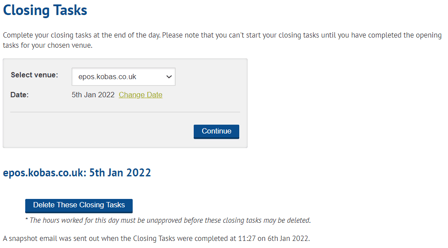 Before this can be completed, you will need to remove approval for the hours worked for that by week (if they have already been approved), by going to Rotas > Rotas then selecting the required historic rota. Filter by the selected venue and go to Hours Worked. You will then have the option to Remove Approval.

Once the Hours Worked have had their approval removed, and the closing tasks have been deleted, you will then need to complete closing tasks in the usual manner for that day.
Remember to re-approve the hours worked for that week once completed.
Top Tip: Here you can download a poster to display for your shift leaders responsible for completing any part of your Daily Tasks.