Kobas EPoS communicates over the internet with Kobas Cloud to ensure that data such as your sales figures and ingredient usage can be analysed in our report section.
Last updated 2 Jan 2022
Jump to:
---
Introduction
When the internet connection in your venue is interrupted Kobas Cloud is unable to receive that information and as such you won't be able to complete your closing tasks for that session.
To enable you to complete your cash declaration we offer a manual upload procedure that just requires a smartphone with a QR code scanning app.
---
Manual Upload Steps
1. On any of your Kobas EPoS till go to Admin > Journal. Any recent sessions that haven't been successfully uploaded will be highlighted: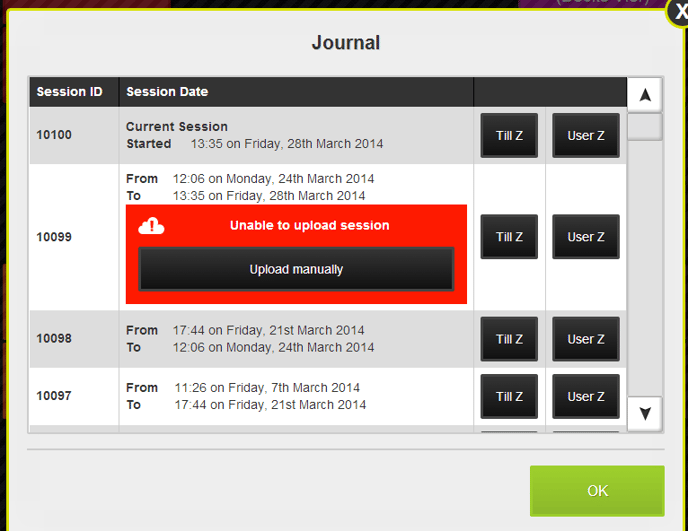 2. Click the Upload manually button to reveal a QR code.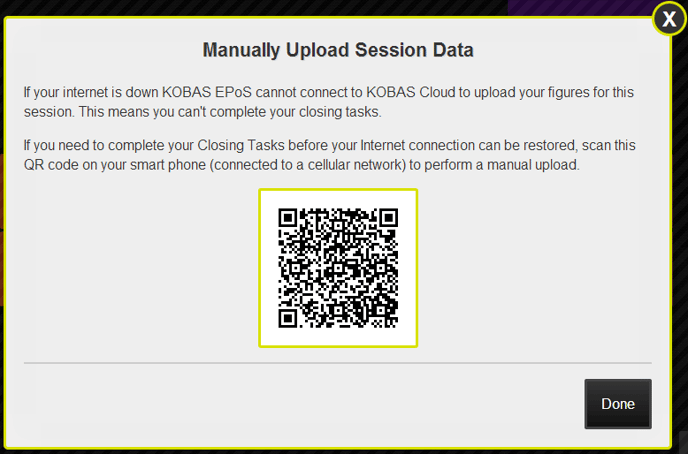 3. Open a QR code scanning app. We recommend i-nigma for both iOS and Android.
It'll load a link for a preview. So long as your phone is online with 3G/4G just tap the link to go online and you're done! Return to Cloud and you'll then be able to continue with your Closing Tasks.
---
Next Steps
This process will only transfer basic information regarding sales and payments to allow you to complete your closing tasks. More detailed information such as stock usage will only log in cloud once your internet connection is restored, and the database upload is complete (this is an automatic process, but may take some time after the internet connection is restored).
We would not recommend that final financial reconciliation takes place until the internet connection is restored and full data is available on Kobas Cloud.