Here we explore how your customers can access your services through your Customer Interaction Centre.
Last Updated 12 Apr 2023
Jump to:

---
Customer Interaction Centre
The root web address will take customers to a page to sign in or register. Whilst some features are available as a guest (mobile ordering and the allergen menu), all of the features work best when registered. After signing in, the customer can navigate the CIC using the menu across the top. This video walks you through the various elements of the CIC.
Note: The categories available within Mobile Ordering and the Allergen Identifier area are dictated by the EPoS Item Category settings.
---
Registering a customer within my Kobas account
Navigate to Your Customers > Customers > New Loyalty Customer and you will first be asked to enter an email or phone number. This is to ensure that there is not already a Customer with this information and to avoid duplicates. If there is already a Customer with these details then you will not be able to create a new one, but you will be prompted with a link to visit their existing profile.
If they are new details, you will then be able to add the rest of the Customer's details below. This includes a Favourite Venue, as well as any venues that they are interested in, allowing you to segment your Customers by venue and only contact them with relevant offers. You can also mark them with consent to contact, ensuring you are GDPR compliant.
When adding Customers this way, an email asking the Customer to confirm/verify their email address is not automatically sent, so will need to be sent manually from the customer's profile once created if you would like this Customer to be able to use Loyalty. Once the Customer has confirmed their email address any welcome offer vouchers will be assigned.
From your EPoS go to Customers & Codes > Add Customer. You can enter the Loyalty Card code (printed on the card or use the QR scanner if QR) and the Customer's email/mobile. This will automatically send an email to the Customer with a link to CIC where they can finish their account registration, as well as add the points for this transaction to their account.
A customer can create an account on the CIC on the Register New Account tab. When they enter their First Name and Email Address they will be taken to another page to enter more details and send an email verification email. As soon as they have clicked the link within this email, their account is fully set up. They are not able to log in to their account until the verification link has been clicked.
CIC (Online Order or Gift Cards)
If a Customer makes an online order through the CIC and proceeds to the Checkout/Review section, they have the option to log in to an existing Customer account, register for a new one or checkout as a guest. If they choose to register for an account they will be sent an email with a code inside that they must enter. This verifies the account automatically, regardless of if they go ahead with the order.
When you create a Reservation, either on Cloud, EPoS or an integrated reservation partner, the booker is automatically created as a Customer with a profile. When a customer is created this way, no email verification link is sent, but this can be sent manually from their profile.
If you have set up an Integration with one of our WiFi provider partners, Kobas will automatically create a Customer profile when someone logs in to your customer WiFi.
---
Mobile Ordering: Receipts & Order Status
The customer will receive an email confirming their order similar to this: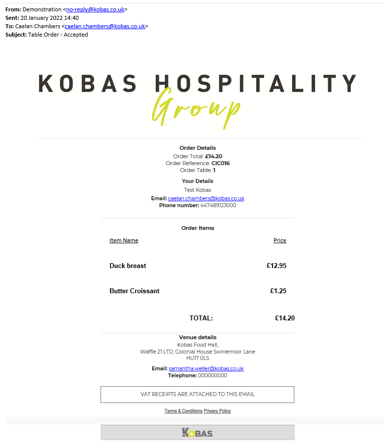 On their device, the order status will also be displayed as follows:
Note: This image is from a multi-venue ordering set-up whereby you can see the order status for each part of the order.
The CIC uses the following statuses:
Order Confirmation, Order confirmed, Rejected, Preparation, Ready & Dispatched. Check here to see how that matches EPoS and KDS order status.
Other features:
Saved Cards - when your customers tick the "save card details" checkbox, the details are securely stored by Stripe, our payment provider. This allows quicker checkout for food and drink.
Order Ahead - when ordering for collection and delivery, your customers can order later on in the same day (depending on your settings in Cloud).
Apple Pay - Apple Pay is enabled for all of our clients using Mobile Ordering via Stripe secure connect. This feature is only available when accessing the CIC through the Safari browser on an iOS device.
---
Recruitment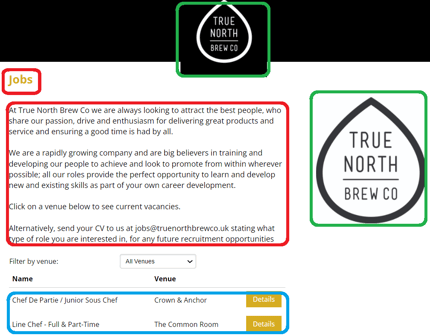 The recruitment portal is fully customisable:
Colour schemes, fonts and logos (green boxes) are set by our engineers at your request.
The introduction to the page (red boxes) is set in your Kobas System Preferences.
The job vacancies and applications (blue box) can be managed in Kobas Cloud by anyone with the appropriate permission levels.
---
Direct access URL's (web addresses)
Some elements of the CIC are accessible without being logged in:
where .kobas.co.uk is substituted for your company's website domain.