Having too much unused and inaccurate information in your account can lead to human error, data non-compliance, and poor performance of your account. Follow this guide to keep your account healthy.
Last updated 04 May 2023
Jump to:
How to keep your data tidy:
Other notes:
---
What we mean by Account Hygiene and why it is important
Kobas accounts operate smoothly when they are set up, but over time, they accumulate a lot of data. This data quickly becomes unused or inaccurate, which can create several issues down the line. These can include human error (duplication, incorrect selections, possibly resulting in revenue loss and stock variances), non-compliance with data legislation (where customer and staff personal details are concerned), and negative impacts on performance (due to significant amounts of unnecessary data).
Account Hygiene refers to the practice of keeping the data in your account up to date, accurate, and relevant. We use the term Hygiene as it has close similarities to the hospitality practice of:
"Clean as you go"
Some other takeaway phrases that will help you start as you mean to go on are:
"Accurate and relevant information"
And:
Don't be too afraid of the icon
Warning: This article will talk you through the deleting and overwriting of information within Kobas. Note that there are some parts of Kobas where deleting can cause irreversible changes to your account. We will talk you through these as well.
---
How you can help keep your account tidy
Menu Pages
Click here to read more about how Menu Pages function. The important considerations here are:
Menu Pages are global to the whole account, so only delete pages that aren't in use by any venue.
If you delete a Menu Page that is currently in use on a Menu, the following confirmation prompt will appear. This shows you the Menus which this menu page is in use. If you continue by pressing OK, the Menu Page will be deleted and no longer available on any menu. The EPoS Items won't be deleted however and will remain in cloud.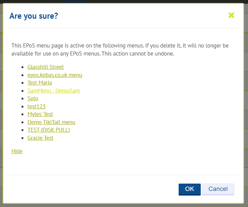 If you operate with different EPoS Items for each venue, you can use the same Menu Page for each venue, with the different EPoS Items on. This will help keep the number of Menu Pages to a minimum.
The system can't display more than 170 Menu Pages, and therefore there is a need to keep your total number below this.
Menu Changeovers are an event that, if not done correctly, often causes clients to accumulate more Menu Pages than required. Guidance on doing this correctly is here.
EPoS Items (PLUs)
Click here to read more about how EPoS Items function. This is usually the area where account data can spiral. These are the important points for consideration:
When EPoS Items are no longer required, they should be deleted in the cloud EPoS > Item (PLU) Manager.
Avoid duplication by ensuring minor changes are made to the EPoS Item as opposed to creating a new one (such as price, name, or allergen changes). Our bulk tools for editing EPoS Items can really help to make this process quicker thank you think.
For clients who use different EPoS Items per venue, it is recommended to use the venue shortcode on the internal EPoS Item name. This allows venues visibility over which EPoS Items belong to which venue, giving them the confidence to be able to delete them once they're no longer needed.
For clients who use the same EPoS Items across several venues, it is recommended that there is a process, or nominated people, to ensure out of use EPoS Items are removed.
You can use the filter on the list page to show which EPoS Items are currently not in use on a menu, and delete them if required.
Stock Ingredients and Batches
Follow the links to read more about how Stock Ingredients and Batches function. These are the important points for consideration:
These items should be dealt with in the same manner as EPoS Items (above), in that they should be deleted once one longer required by going to Operations > Manage Ingredients or Operations > Manage Batches.
The difference between the Stock and EPoS Items is that the Stock items are global across the accounts. Therefore, we don't see these functions accumulating quite as much data as EPoS Items.
It is important to ensure these items aren't duplicated unnecessarily. You can use the additional supply function to add different suppliers and different pack/unit sizes. This is beneficial in numerous ways, avoiding duplication, and meaning you won't need to change ingredients on your EPoS Items to accommodate a different size/supplier.
Similar to other items, ingredients should be deleted when they are no longer required.
Discounts and Price Bands
Follow these links to read more about how Discounts/Promotions and Price Bands function. These are the important points for consideration:
When these are no longer in use, they need to be deleted.
Text in EPoS > Discount Manager advises against editing discounts and to use a new one should any amendments be required. This has the potential to create additional unnecessary data if old discounts aren't deleted.
Modifiers
Click here to find out more about how Modifiers function. These are the important points for consideration:
When these are no longer in use, they need to be deleted.
To avoid duplication, Modifiers can be used across multiple EPoS Items and venues. For example, you may have a Modifier for "Would you like a mixer?", that can be used on all of your spirits and (if the prices and availability are the same), across multiple venues.
Similar to EPoS Items, we would recommend that where Modifiers are venue-specific, that their venue shortcode is used to pre-face the Modifiers name.
Staff and applicants
You can check the New Starter and Recruitment Portal pages for information on how these features work. Important points for consideration here are:
GDPR and responsibilities around the holding of private and sensitive data.
Ensure that all staff is progressed accordingly. This includes moving New Applicants to Rejected Applicants as required and Exiting staff who have left.
Job adverts
You can check the Recruitment Portal pages for information on how these features work. Important points for consideration here are:
To avoid duplication, you could make use of the visibility function. We would suggest having an advert for each of your venues/roles, and simply making the advert visible, or not, as required.
However, if an advert is going to no longer be required, it will need to be deleted.
Cash Bags
For more information on the functionality of this feature, read the Banking page. Important points for consideration are:
At present, this is a feature that can't be turned off. Therefore the "banking" process will need to be undertaken, in order to clear what would otherwise be a long list of Cash Bags that haven't been banked.
Note: The

button will perform a "soft delete", meaning that you will no longer be able to find the item in the Cloud or EPoS. However, the item will be stored in your databases, meaning that it will still pull into historical reporting in your account.
Notes
Closing tasks and Z-Reads
EPoS Sessions need to be closed (Z-Read) and committed to a Cash Log (Closing Tasks) within three months of the date of closure of the session.
After this time, the information is stored only in the Cash Log within Cloud and we cannot make changes to this information. This is because we remove old data from your EPoS Server so we aren't duplicating data storage, to keep system performance optimal, and that Cloud has more robust redundancy features.
Therefore, we would suggest completing Closing Tasks as soon as possible, and regular downloads/Exports to your account systems to ensure any issues can be resolved in this time frame.