Kobas has functionality to allow you to export approved hours worked, tips and holiday pay for import into a number of payroll system. This help article details how to configure Kobas and Sage Payroll.
Stage 1 – Add Sage Payroll Employee Reference number to Kobas
You can either do this as part of the New Starter Tasks (part in "Pay & Bank Details" and part in "Finance Data") or via the "edit" button next to "Pay Details" on the full staff page. The data you need is the employee's hourly rate and their Employee Reference from Sage Payroll. You should insert the Employee Reference into both "Pay Ref" and "Pay Code".
Employee Reference in Sage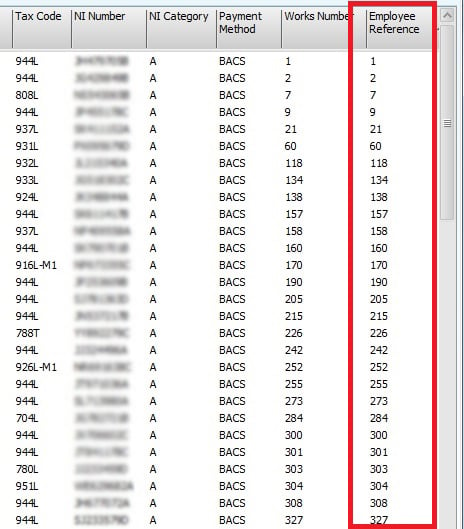 New Starter Forms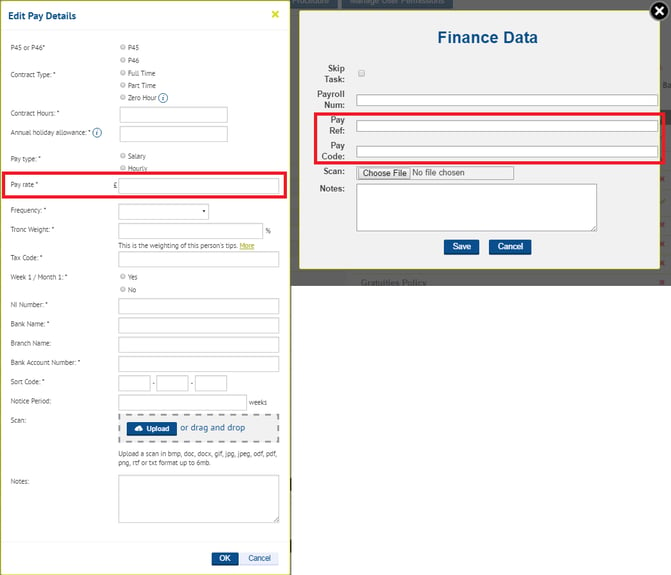 Full Staff Page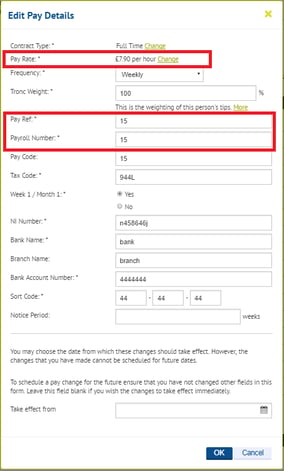 Stage 2 – Add Pay Elements to each employee in Sage Payroll
Kobas requires 4 basic pay elements to be created and an additional 2 pay elements per venue. These are for:
Basic Pay
Basic Tips
Holiday Pay
Back Pay
Cover at venue xxxx hours
Cover at venue xxxx tips
You find the Pay Element ID in Sage Payroll in the "Company" section under "Pay Elements"; we need the relevant ID: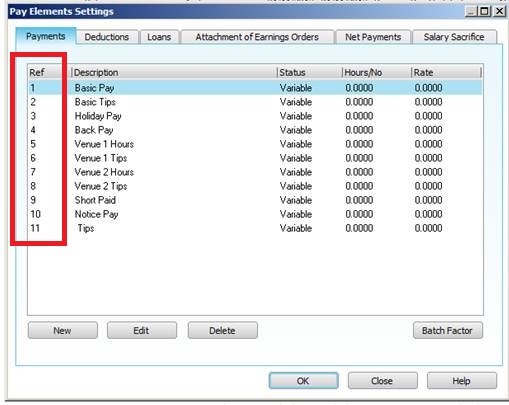 The ID of elements 1-4 should be added to Kobas in the Administration > Integration Settings section: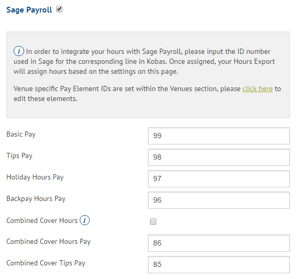 The 'per venue' elements need to be added by going to Administration > Venues > Click "Venue Details" next to the venue in question and complete the relevant sections:

Stage 3 – Adding Pay Elements to Employees
The final stage before you're able to export/import between Kobas and Sage Payroll is to assign All Pay Elements to All employees. If you do not apply all Pay Elements to an employee the import will still work but you'll generate errors during the import saying similar to "Pay Element xx not assigned to Employee xx". To assign the Pay Elements, double click on an employee, navigate to the "Employment" tab and click "Pay Elements" as shown below.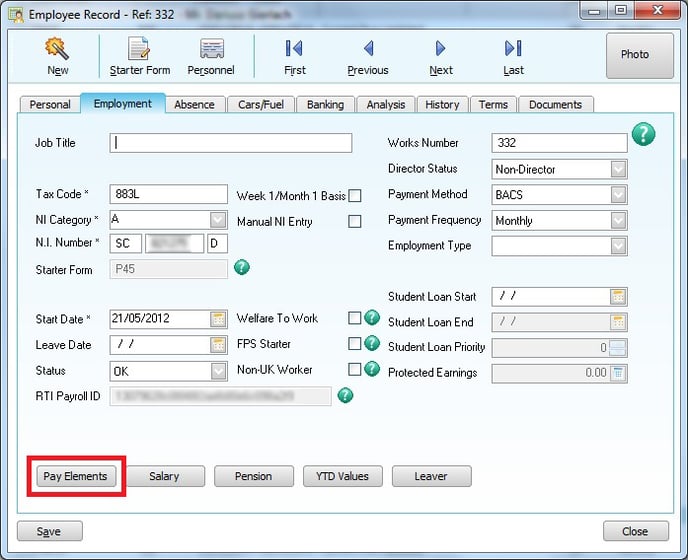 Once in this screen you should add each Pay Element on the left using the drop list. You should also enter the correct "Rate" for each line apart from Tips / Gratuities as the rate will be generated by the export: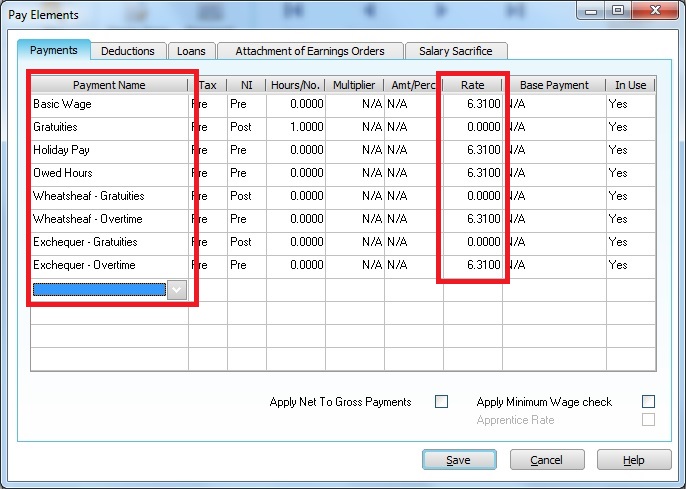 This completes the configuration of Kobas for use with Sage Payroll
Stage 4 – Importing data into Sage Payroll
Once you have obtained your export, either from Rota > Hours Worked or Reports > Hours Worked Export you can import it into Sage Payroll.
1. From the File menu choose "Date Import" > "Import Sage Payroll Data…"

2. Click "Next", selected "Employee Payments (Hours and Rates)" and click "Next"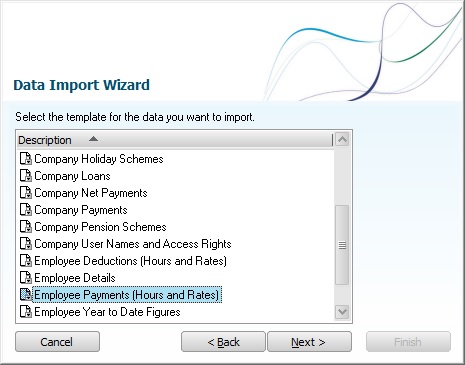 3. Select the file you exported from Kobas and click "Finish" to complete the import