Guide on how to set up your customer facing screen presentations.
This guide is only relevant if you have customer facing screens attached to your tills. If you do not have customer facing screens in your venue and would to like have them installed, please contact support@kobas.co.uk for more information.
Customer facing screens are a great way to advertise promotions, loyalty schemes, changes in opening hours or any other messaging you want to quickly and effectively communicate with your customers. They also give a customer a live view of items being added to their basket as they are placing their order.
You are able to put together a fully custom set of slides (known as a presentation) to be displayed on your customer facing screens and also a custom image for the basket background. There is no limit to the number of slides you can add to a presentation, and when the till is not in use, your screen will automatically cycle through them. The basket view appears as soon as items are added to an order. Please note the basket image will be partly overlaid by the basket details, so you will need to design accordingly.
You can create any number of different presentations and assign to your venues accordingly, allowing for venue specific branding and promotions.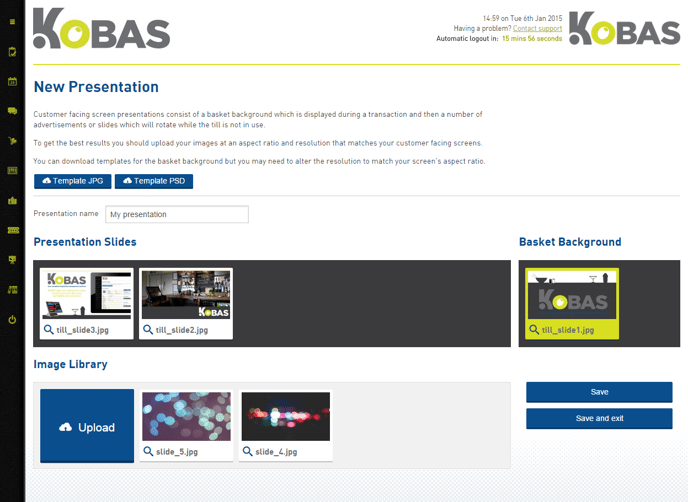 Preparing a presentation
Prepare your slides appropriately for the resolution and aspect ratio of the screens attached to your tills (this may vary with different screen models). Any images prepared incorrectly will be automatically resized (and potentially distorted) to fit the full screen area when displayed on the screens.
You'll also need to prepare your basket background, keeping in mind that some of the image will be overlaid by the basket details. You can download a JPG or PSD template to guide your design, but you'll still need to consider the resolution and aspect ratio of your specific hardware.
For all image files, we support .jpg, .jpeg, .png or .gif formats, up to 3MB in size.
Setting up a new presentation
Visit EPoS > Screen Presentations and click the button to create a new presentation. The first presentation you create will become the default, and upon saving will go live straight away for any venues set up with customer facing screens.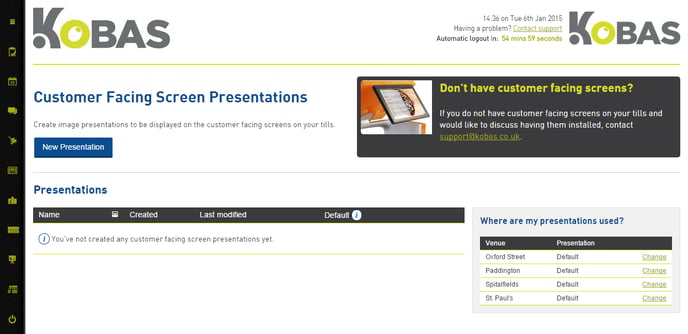 You'll need to upload some slides to start creating your presentation. Click to open the upload window and select the files to be uploaded. Once everything is in your slide library, you can drag and drop them into the presentation space, or into the basket background space. The order in which the slides appear on this screen is the order in which they will be shown on your customer facing till screens.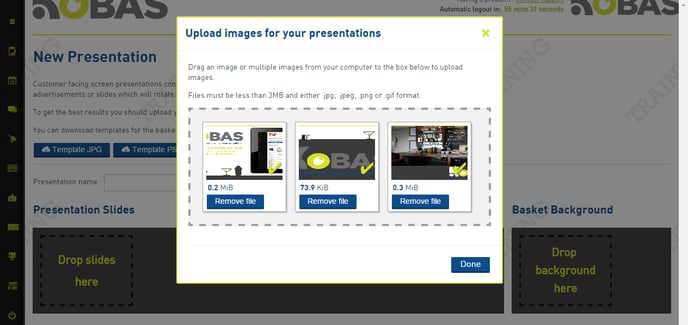 Clicking on the magnifying glass symbol on a slide shows you a larger view and more details, including which presentations it has been added to. You can delete a slide as long as it is not currently used in any presentations.
Ensure you've given your presentation a name, and then save and exit to return to the list of presentations.
Managing your presentations
The presentations list shows all the customer facing screen presentations that have been created in your Cloud account. You can add, edit and delete presentations from here, however you cannot delete the default presentation.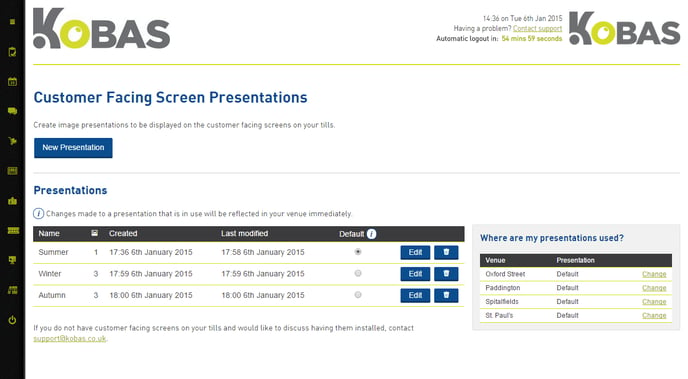 On the right of the screen you'll see a list of all your venues which shows the presentation they currently have assigned. All venues will be set to display the default presentation as standard, but this can be overridden on a per venue basis. If you do not have customer facing screens in one or more venues in this list then you can disregard this information.
Please note that if you change the default presentation, all venues set to display this will be updated straight away.
Presentations on your tills
Your customer facing screens will turn on with the rest of the till unit and load the appropriate presentation automatically. Any changes made in Cloud to live presentations will be automatically be downloaded to tills within a few minutes.