Creating a Custom Rota affords the greatest flexibility in creating your weekly rota for all your staff, as there is no set structure. It is now easier than ever to navigate our Rotas page. Simply select a week and a venue to begin. After that is done, you will see the option to filter the staff you can view at a time by Rota Role, and an interactive calendar beside it.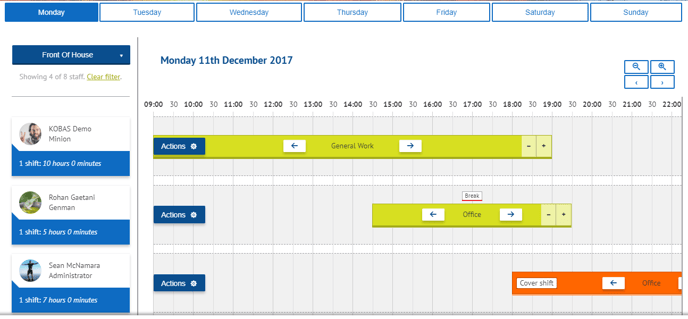 Shift Actions
There are various shift actions that you will be able to find either at the top of the page after clicking the plus sign to add a shift, or in a drop down box which appears when clicking "Actions" next to a current shift.
The different shift actions that can be used are:
Add shift
Trade shifts
Copy shifts
Unassign shifts
Delete shifts
Add Shift
To create a new shift, you can select the + sign on the left-hand side of the calendar and then click Add Shift button at the desired start-time. If a staff member already has a shift for this day, but you'd like to add another, you can then click Actions > Add Shift.
Please note that the Actions button will only appear once a staff member has an existing shift for that day.
Trade Shifts
Trade Shifts allows you to move all of the shifts that a staff member has for that day. This is particularly useful for when two staff members need to swap shifts. Selecting Actions > Trade Shifts will then highlight each other staff member in green, meaning that shifts can be moved here.
Copy Shifts
Copy Shifts will copy all of the shifts that a staff member has for that day. You can then apply these shifts to another member of staff. Selecting Actions > Copy Shifts will highlight each staff member in green, meaning that shifts can be copied here.
Unassign Shifts
Unassign Shifts will remove shifts from a member of staff, but not delete the shifts. Unassigned shifts will appear at the bottom of your rota in grey and can be applied to staff by using the Assign Shift button, which behaves in the same way as Trade Shift. Alternatively, you can Copy an unassigned shift as well.
Delete Shifts
Delete Shifts will remove shifts from a member of staff and will also delete these from the rota. Deleted shifts cannot be recovered.
Individual Shifts
Selecting an individual shift will bring up a quick-access bar that you can see above. This allows individual shifts to be moved quickly without affecting any other shifts that a staff member might have that day.

Reassign Shift behaves in the same way as Trade Shifts, but will only affect this shift and not overwrite any other shifts the receiving staff member has that day, unless the two shifts conflict.
Copy, Unassign and Delete behave in the same way as their multiple shift counterparts.
Edit Shift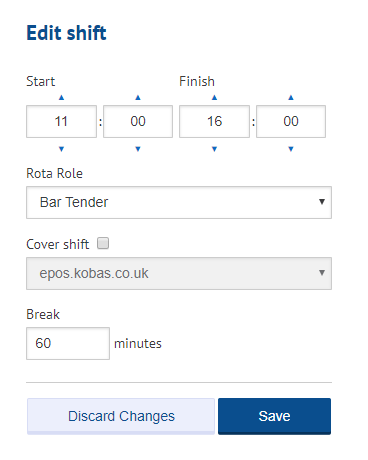 The Edit Shift sidebar appears on the right-hand side of the page when a new shift has been added, or when you click on an already existing shift. Here is where you can select the start and finish times of the shift, as well as the rota role, break time, and if the shift is a cover shift that will be charged to a different venue.
Once you have added a shift, it will appear in green next to the relevant staff member. If you are adding a cover shift, this will appear in orange, easily distinguishing the different types of shifts. Additionally, if a staff member is on holiday, their normally scheduled shift will appear in red.
Honourable Mentions
Nudging Shifts
If you find you need to make a small change to a shift time, you can easily nudge a shift back or forth in 15-minute intervals by using the arrow buttons in the centre of the shift. You can also add or subtract time in 15-minute intervals using the back and forth arrows on the right-hand side of the shift. This could prove useful when copying a shift that is almost the same as another, and nudging it along back and forth to get the correct shift time quickly.
Budget Table
Below the new and improved rota creator is the familiar budget table. This provides you with an overview of the cost of staff over the week, based on their rotas. Refer here for information on hours, net amounts, national insurance, and percentage predictions.
Weekly Overview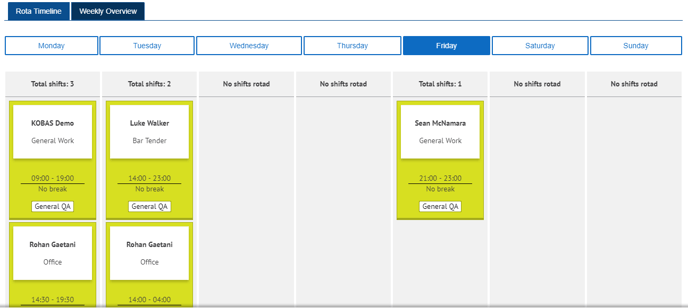 Once you have some rotas entered in for the week, they are view-able in an easy-to-digest weekly overview. Simply click on the "Weekly Overview" tab, located next to "Rota Timeline" to use this feature.