Adding staff to your company and assigning them to a venue couldn't be simpler. Kobas allows for you to add a new applicant at the time of their application, attach a CV and covering letter and manage their recruitment through to becoming a full member of your team.
Starting in Kobas Cloud go to Staff > New Applicants. Here you will find any new applicants already in the system as well as the New Applicant button. If you do not wish to record the recruitment process within Kobas or are adding already existing staff to Kobas you can skip all interviewing stages by selecting the check box while entering details in the New Applicant screen.

From here select More Details button for the relevant applicant to bring up their profile page. You can now edit all details for them such as address, next of kin, pay and NI.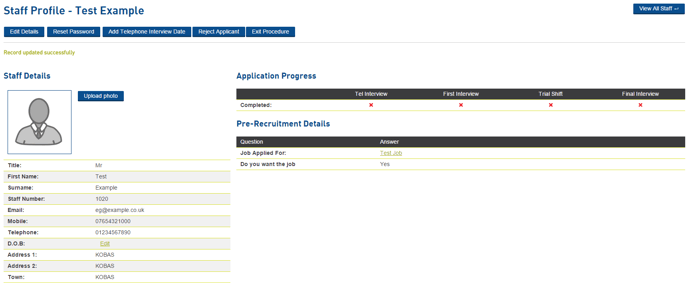 Along the top of the page you will find the Reject Applicant and Interview Scheduling options. The process will require you to pass the applicant through 3 primary stages:
Scheduling and completing a telephone interview (at which point you can schedule a face to face interview).
Completing main interview and scheduling a trial shift.
Completing Trial shift and making an offer.
With these stages complete you can now go through your new starter checklist (financial info, right to work etc), create their Kobas account and assign them to a venue.
In order for a staff member to qualify as current staff, you'll need to complete the following new starter tasks as a minimum:
Kobas Account
Pay & Bank Details
Next of Kin
A Note On Exiting Staff
On the Staff profile page you will also find the Exit Procedure button. When a member of your team leaves the business select this option to enter the reason as well as any notes you might need for reference later. Completing this form will remove them from any venues they are assigned to as well as from Current Staff on Kobas Cloud.
Please note you cannot exit a current venue manager. Assign a new manager to the venue first in Administration > Venues.