Learn more about the key areas you can report on within Kobas Insights and how to delegate access to specific members of the team.
A crucial Kobas raison d'être is hospitality business analysis. Kobas offers a growing number of reports containing invaluable business insight. This guide explains how they are grouped together and which permissions control access to them.
A hospitality business is grouped into four key areas of concern: your customer interaction, your team's labour, your operational efficiency, and your revenue. Combining these with a fifth, overarching category, the Kobas reports section allows quick access to any of these five categories direct from the navigation, and via a drop down filter on the Reports page.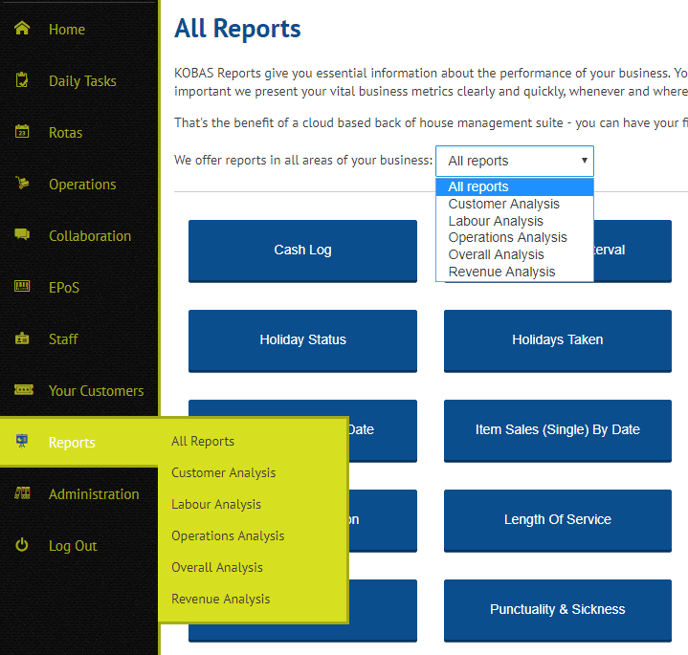 While Kobas Administrators can naturally see all reports, users at other levels in the business can be restricted to only see some of these analysis categories, and indeed subsets therein.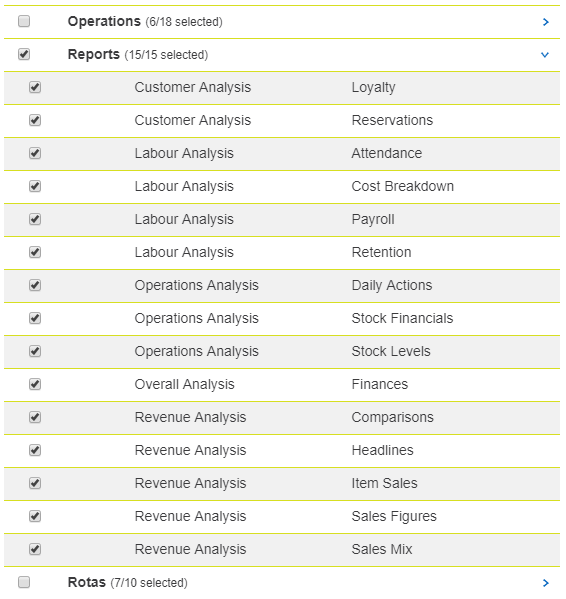 Within each permission there are one or more reports, as detailed here:
Customer Analysis – Loyalty
Customer Analysis – Reservations
Labour Analysis – Attendance
Holiday Status
Holiday Taken
Punctuality & Sickness
Labour Analysis – Cost Breakdown
Labour Costs
Labour Per Person
Time Comparisons
Labour Analysis – Payroll
Hours Export
Labour Exchange
Tips Per Employee By Date
Labour Analysis – Retention
Length Of Service
Staff Turnover
Operations Analysis – Daily Actions
Incident Report
Petty Cash
Operations Analysis – Stock Financials
Stock Audit Trail Transactions
Stock Transfers
Operations Analysis – Stock Levels
Stock Ingredient Averages
Stock Current Position
Stock Usage Comparison
Overall Analysis
Operational Profitability
Revenue Analysis – Comparisons
Week On Week Sales
Year On Year Sales
Revenue Analysis – Headlines
Revenue Analysis – Item Sales
Item Sales All By Date
Item Sales Single By Date
Revenue Analysis – Sales Figures
Daily Sales Breakdown
Daily Sales By Interval
Daily Sales By Order
Discounts
Revenue Analysis – Sales Mix
Sales Mix By Lead Type
Sales Week Breakdown