Understand how to manage allergens in the Kobas system.
Allergens consist of two parts within Kobas Cloud: Ingredient Manager and Item (PLU) Manager.
Ingredient Manager
To begin adding allergens to ingredients, navigate to Operations > Manage Ingredients. The process is the same for both adding a new ingredient or editing an existing one.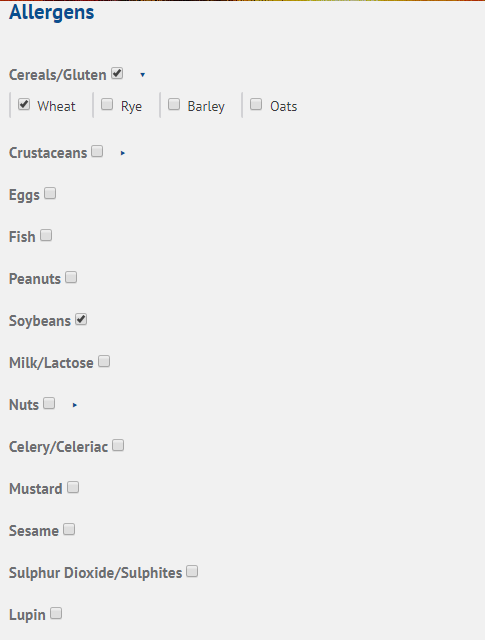 You will see a new section titled "Allergens" at the bottom of the page, underneath "Restrictions" Here is where the 14 main food allergens are listed. Four of these allergens have option to expand to give sub categories. These allergens are: Cereals/Gluten, Crustaceans, Nuts, Molluscs.
For Cereals/Gluten and Nuts, you must specify which type of subcategory is present in the ingredient. If you click either of these categories without doing so, you will see a warning message to help keep you on track.
Products (Batches)
Allergens cannot be directly assigned to products, but they will inherit allergens from ingredients. This means that any product used in a recipe will transfer allergens to EPoS items.
Item (PLU) Manager Create/Edit
The second place you will find allergens is in EPoS > Item (PLU) Manager under a new "Allergens & Dietary" tab. Whether you are creating a PLU or editing an existing one, the process for adding allergens is the same.
Adding ingredients that contain allergens to EPoS Item recipes will automatically add these allergens to the EPoS Item. Inherited allergens will always be listed as "Contains" and cannot be removed, unless the associated ingredient is removed.
Allergens can also be added directly to the EPoS Item by using the selectors and Add Allergen button at the top of the page. For certain allergens you will have the ability to select a type.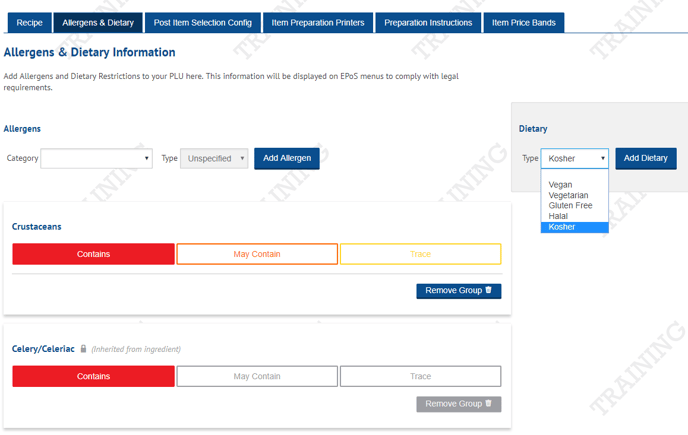 Once you have all your allergens assigned to the PLU, you can choose what severity the allergen is from "Contains", "May Contain", or "Trace".
Allergen categories can have a higher level of severity than their sub-types, but they cannot have a lower severity. For instance, if a a PLU May Contain hazelnuts then it would be possible to Contain nuts, but it would not be possible to set nuts to Trace. If the sub-type is set to Contains then the category must also be set to Contains.
Dietary Information
To add a Dietary Restriction to a PLU, simply choose from the drop-down box which type you would like to assign. Be aware, Gluten-Free is tied to the allergens on the PLU; If there is a gluten allergen present, you will not be able to select Gluten-Free as a type.
Item (PLU) Manager View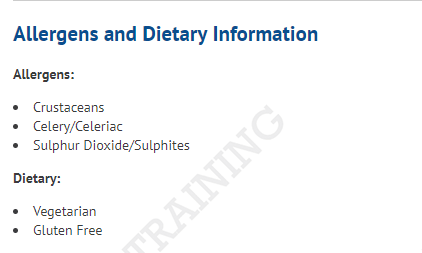 If your PLU has allergens attached to it, these are now easily accessible in EPoS > Item (PLU) Manager > View. We've tried to make this as straightforward as possible, so here you will simply see a list of allergens along with a list of dietary information.
Post Item Selection Configuration
Allergens cannot be directly assigned to Post Item Selection group or options, but they will inherit allergens attached to ingredients in their recipe.
Allergens Export
Allergens can be exported from Kobas by accessing EPoS > Menu Administration and clicking the Export Allergens button. This will begin a CSV download of all EPoS Items and Post Item Selection Configurations on your chosen menu that contain an allergen or any dietary restrictions.