Discount Codes are redeemable computer-generated codes that link to a discount.
How to Set it Up
Discount Codes are set up within the Campaign Manager in Kobas Cloud Your Customers > Loyalty Campaigns. Similar to other Loyalty Campaigns, you enter a name for the campaign, and select a type, which in this case is Discount Codes.
At present, there are two available discount codes:
Single-use Codes
Multi-use Code

Single-use Codes
Single-use codes are codes designed for one-time use only. Depending on the rules of the campaign, the code can be used for one specific item or an entire order. Each code generated will be unique and can only be used once. Once the code has been applied, it becomes invalid.
For instance, if you want to offer 20% off a bottle of wine for 100 people, 100 unique codes will be generated.
Multi-use Codes
Multi-use discount codes allow you to set the limit to the number of times one unique code can be applied. When you reach that limit, only then will the code expire.
For instance, if you want to offer a special 20% off wine for your newsletter subscribers, you can create a campaign with Multi-use codes and the system will generate one code that can be used as many times as you want. So if you have 2500 email subscribers, with multi-use codes, you can generate 1 specific code to send out to all 2500 customers.
Linking Discounts
Once you've selected which type of code you want to use, you can link a discount to the campaign (ie: cocktail happy hour). When this is done, click on Automatically Generate Codes, and you can set the limit as to how many codes you wish to generate and what the limit is.
Availability Planner
Just as with Loyalty Points Boosters it is possible to define the dates, days, or times that a boost is available. The availability planner is flexible, meaning that users can either select the times that a discount is available, or when the boost is not available.
Once the campaign is saved, the information is transmitted to your venues EPoS server and ready for use.

On EPoS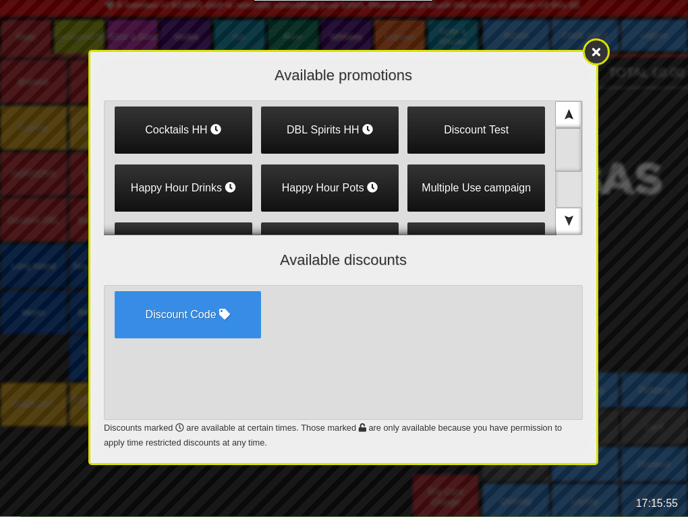 Scanning a QR Discount Code will automatically apply the discount to your basket. If you're not using QR Scanners then a code can be typed in by accessing the Discounts section on your EPoS menu. If any codes are available then a new Discount Codes button will be shown allowing for manual entry.
Discounts applied via a code work in an identical fashion to normal Kobas discount.
Adding Codes to Email or Social Media Campaigns
There are two ways to add the codes to your marketing campaigns: copy and paste the manual code, which consists of 6 characters, or export the QR code and uploading it as an image to your campaigns. Please note that the QR code will download as a PDF file, and you will need to convert it to a JPG or PNG file in order to attach it as an image to your campaign. Then, ask your customers to show you the code at checkout.