Manage your hardware connections on-site including printers, tills and PDQ machines.
Kobas Hardware Manager
The Hardware Manager sits inside the Venue Manager, accessed through Administration>Venues>Venue Details.

The three tabs that correspond to hardware are only visible to administrator-level users, these tabs are: Tills, Printers, and PDQs. These tabs allow you to take more control over your venue's hardware reducing the need to contact support if changes are needed. Below are some examples of how you might use these tabs
Please be aware that if you have the permission to view and use these new tabs you have the ability to modify a venues printer layout and it should only be done if you 100% understand the changes you are making. If you are unsure please contact support before doing so.
---
This tab will show you all existing Printers in a venue, it also includes the functionality to add, remove, and configure these.
Clicking New Venue Printer will open a pop up with a number of options that will configure the way in which your new printer will behave. The options will depend on the type of printer, its purpose, and its connection.
Name – The name of the printer. You will see this when you assign a PLU to it.
Description – A description of the printer (eg "Kitchen Printer").
Accepts Kitchen Instructions – If this flag is set then when a tab has kitchen instructions issued (eg "Starters Away," or "Mains Away") they will print here.
Print Duplicate Work Docket – Prints two of each work docket sent to the printer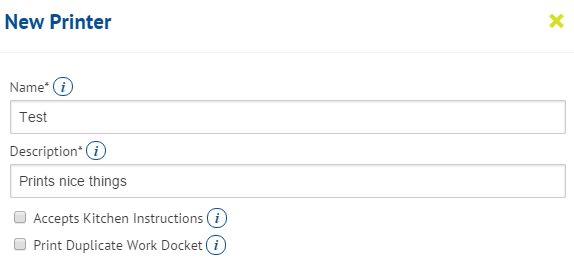 Every printer must be either Controlled by Till or Controlled by Server. A thermal printer will always be controlled by a till, regardless of whether it is connected via LAN or USB; any impact printer will always be controlled by the server. Please therefore be aware of the type of printer you are installing before selecting this.
Controlled by Till
Once selected, you will need to select how the printer is connected (USB or Network). If Network is chosen, then you will need to enter the printers IP address, if you do not know what IP address to sign, please contact support.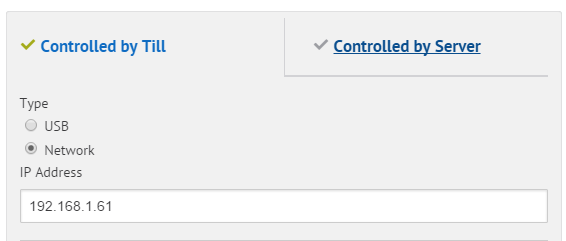 You must then select which till the printer controlled by. This is done by using the drop-down menu, which lists the tills available in your venue (Venue Tills – via the "Tills" tab). If you select "USB" as the "Type," then the Printer Name will default to "USB1" – this should not be changed.
Finally, there is a checkbox which controls whether this printer will print receipts or not.

Controlled by Server
As previously mentioned, all impact (or kitchen) printers are controlled directly by the server and are always connected via LAN.

The only options here are the Printers name and IP address. Please note that the name MUST match the name of the printer installed on the server in CUPS (Common Unix Printing System) or it will not work. The IP address will ideally start at xxx.xxx.xxx.51 and increment (think kitchen printer 1, 2, 3, etc).
Once this form is completed and OK has been clicked, this printer will be added to your server's network.
It is also possible to modify existing printers. If you wish to move a printer that is connected to a till via USB to another location in the venue, where it would no longer be possible for it to be connected via USB, you can change this to a LAN printer. This can be done by selecting Edit, next to your chosen printer.
You can also change the printers name, description, etc in the same menu, as suits your needs.
---
Tills
The Tills tab is primarily used to control settings such as the float level, but for privileged users, it is also possible to Manage Printer Suppression.

Suppression rules control where work dockets and receipts are sent when an order is rung through the till. This is usually set up during the installation of a venue, but if you wish to change certain things in the future, it can be done so here. For instance, you may want to stop a work order from printing to a certain location or only have it do so during a certain time.
Example.
Your venue has two tills, Till 1 is behind the bar and Till 2 is in the dining area. Both tills have thermal printers for printing customer receipts. But the a printer connected to Till 1 is also set up as a dispense printer for all beverage PLUs.
As Till 1 is in the Bar, it does not need its printer to print work orders, as the bar staff have taken the order directly from the customer. However, the waiting staff in dining area can ring through a drinks order on Till 2 and have a work docket print at Till 1. This allows the bar staff to make the required drinks without the waiting staff returning to the bar with written orders, saving your staff time.
In this case, a suppression rule can prevent Till 1 from printing drink orders to itself, but still allow Till 2 to send its work dockets to Till 1.
Till 1 <drink order> -> EPoS Server -> cancels the print
Till 2 <drink order> -> EPoS Server -> sends to Till 1 printer
Once you click the "Manage Printer Suppression" button next to your till you will see the below popup.
If you click the left drop-down box, you will see a list of all the printers in your venue. Setting a rule is as simple as selecting a printer from this box and then the rule you want to apply. You can choose from two options.
1.) For the rule to be active always
2.) For the rule to only be in effect on certain days between certain times
If you select "At specific times" the box will expand allowing you to select which days and times you wish the rule to be applied.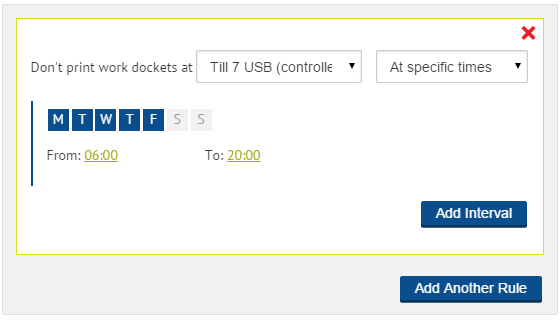 PDQ Manager

Kobas's PDQ management facilities are extremely easy to use. Click on the PDQs tab and the first thing you will notice is three drop-down menus. These allow you to set whether the venue accepts American Express payments, whether Card Tips are accepted, and the amount of unintegrated PDQs your venue has.
The difference between unintegrated and integrated PDQs is as follows:
Unintegrated PDQs are PDQs that operate independently of the till. The amount of unintegrated PDQs that are listed here will be reflected in the Cash Log section of Closing Tasks. You can have up to 25 unintegrated PDQs in a venue.
Integrated PDQs communicate transaction information with the till. Any integrated PDQs are automatically added during Closing Tasks.
We currently support integrated PDQ models:
Ingenico – Ingenico PDQs can only be assigned to a single till, and any till can only have one Ingenico PDQ assigned to it.
Verifone – As Verifone PDQs are controlled by the network, they can be assigned to multiple tills, and any till can have multiple Verifone PDQs assigned to it. An added bonus with Verifone PDQs is that they are able to be set up for payment to be taken from an iPad. Please note that in order to set up a Verifone PDQ it needs to be assigned an IP address on your network and must also be set to the correct Network Port. Please do not change these settings without first contacting support.
To set up a new integrated PDQ, click on "New PDQ". You will need to assign a name to your PDQ and chose what model it is.
To assign an integrated PDQ to a till, click on the Tills tab and click "Edit" beside the till you wish to assign it to. You will see in the "Edit Till" view there is a section where you can assign your PDQ to the till.

If an Ingenico PDQ is already assigned to another till, you will get a warning about this. However, if you wish to unbind the Ingenico PDQ from the till it is already assigned to and reassign it you are able to do this here.
If you are not confident changing the settings to any of your venue's hardware, or if you have a question that is not covered here, please do not hesitate to contact support.