Kobas integrates with Online ordering solution Preoday, in order to allow your EPoS system to receive orders from a third party website. These guides include all the information that you need to get set up and start receiving online orders.
Once Preoday has been enabled for your venue, there's nothing extra you need to do to start receiving orders, other than have a working internet connection.
Once our API detects that an order has been made through Preoday, this will be passed down to your EPoS server, where a tab will be created, named after the Preoday Order's ID.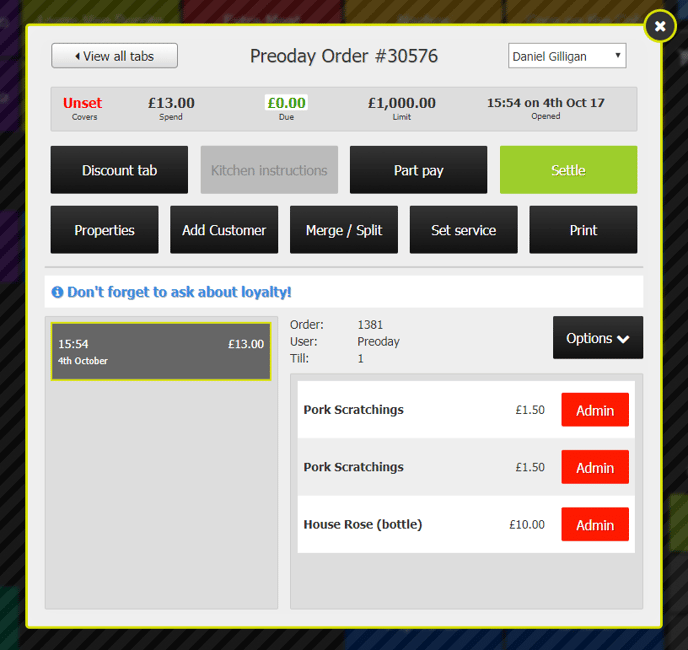 Orders can be paid in two different ways on Preoday; either prepaid via Stripe, or paid in person with cash. The image above shows a Stripe payment, hence the Due amount being £0.00. All that remains to be done is to Settle.
For a cash payment, the due Amount will match the total needing to be paid. Pressing Settle in this case will bring up the usual Take Payment screen.
Please note that Preoday supports two different types of discount. For Cash payments, this will affect the amount due at the point of collection.
Fixed Discounts: £x Off the Total Bill

This will remove £x from the due amount.

Percentage Discounts: % Off the Total Bill

This will take the percentage from the total amount.
Because these discounts aren't Kobas discounts, these will be displayed with the spanner icon that denotes a manual price change, rather than with a visible discount.