Setting up your device is straightforward and normally you won't even need to speak to our support team.
Configure iPads for Kobas EPoS (iOS 10)
Using Kobas EPoS on iPads or iPad Minis is a great way to quickly and inexpensively increase your number of till points while adding greater flexibility for till location. Setting up your device is straightforward and normally you won't even need to speak to our support team.
1. Wireless Network
To start, connect the iPad to your wireless network and press the 'i' bubble at the right hand side:

2. IP Address
Under the section marked 'IP ADDRESS' select the 'Static' tab. This is where you may need to chat to our support team as it's important you get the correct values for each of these fields. Each till/iPad must have a unique IP Address. You can see the last part of the IP Address given to current tills by looking at the text labelled "Till" at the bottom right of the PIN entry box.
Once you know the highest value already assigned, you are able to simple increment this by 1 and use this for the new iPad. A typical KOBAS installation uses the following values, though in some circumstances they maybe different:
IP Address: 192.168.1.x (where x is the value created by incrementing the highest number of your current tills by 1)
Subnet Mask: 255.255.255.0
Router: 192.168.1.254
DNS: 192.168.1.250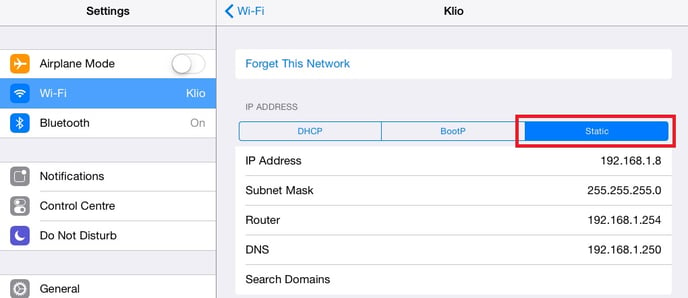 3. Set the iPad up as a Till in Kobas Cloud
You need to ensure the till is set up for the venue in Kobas Cloud, so go to Administration > Venues and select the venue you are setting the iPad up for. Select the 'Tills' tab, and click 'New Till'.
Set the relevant settings for how you want the iPad to behave and choose 'Apple iPad' from the 'Till Type' drop down. Enter the same IP Address that you set on the iPad in step 2 into the 'IP Address' field, then make sure to save.
4. Download the Kobas EPoS Enterprise App
From your iPad, tap here to download the KOBAS App and then tap "Install" on the dialog that pops up.
5. Trust the Kobas EPoS Enterprise App
You must then establish trust for the Kobas app.
iOS 10
Go to Settings > General > Device Management > Kobas Technologies Ltd > Trust "Kobas Technologies Ltd"
6. You're done!
That's it, you successfully turned your iPad into a fully functioning till in a few moments. You'll see a new icon on your iPad desktop, which you can move around as you wish.
If you encounter any problems during this set-up, please contact our support team.